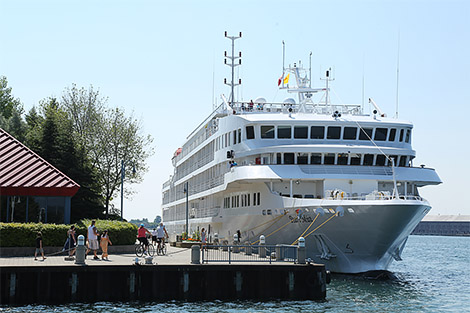 High water levels on the St. Mary's River are creating a positive economic benefit this summer when it comes to cruise ship tourism, say city officials.
Ian McMillan, the Executive director of Tourism Sault Ste. Marie, said this is shaping up to a good season for cruise ship tourism in the Sault.

"It kind of goes in ebbs and flows, but certainly this is one of the better years," said McMillan.

The Pearl Mist was docked Saturday and passengers were allowed to disembark from the ship and are offered tours of local attractions, such as the Canadian Bushplane Heritage Centre and Ermatinger-Clergue National Historic Site.

The vessel is in its first season operating for Pearl Sea Cruises and has a capacity of 210 passengers, which is expected to bring approximately 1200 tourists to the city this year.

McMillan notes that the Pearl Mist will stop in the Sault a total of six times this summer.
"It's a great economic impact to our city, which is what tourism is all about."
Joe Fratesi, the city's chief administrative officer, said there have been challenges in years past due to low water levels, and dredging of the area adjacent to the Bondar Pavilion was priced out but never completed.
"It's a perfect venue for the ships to stop because arrangements can be made for them to get off and do the Agawa Canyon Tour Train. If they are here for the day they can make arrangements to shop at the mall without getting into cabs," said Fratesi.

That is not to be confused with the dredging planned west of Essar Steel for cargo ships, which Fratesi said is still going forward.
Pearl Sea Cruises runs tours between Toronto to Chicago, as well as St. Lawrence Seaway and Maritime tours and Caribbean tours.

"Our passengers enjoyed their tour of Sault Ste. Marie and everyone had a great day despite there being some rain," said Pearl Sea Cruises spokesperson Britt Rabinovici.

The MS Hamburg, which has a capacity of 420 passengers, was forced to dock at Hilton Beach two years ago because of low water levels but will dock in downtown Sault Ste. Marie this Fall, said McMillan.

"That's another almost 500 people dropped into our laps and a great economic impact," said McMillan.
(PHOTO: The Pearl Mist is seen docked in front of the Roberta Bondar Pavilion Saturday August 2, 2014. SooToday.com/Kenneth Armstrong)