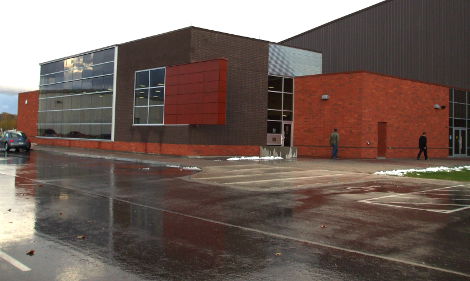 On a bitterly cold winter night, City Councillors discussed golf at their regular meeting Monday.
Plans for an indoor golf driving range, that is.
Council's discussion of establishing such a facility (to be located at the Northern Community Centre, pictured here) came from a September resolution whereby Council agreed to let City staff look into the possibility of an indoor establishment for Sault golfers to enjoy.
Commissioner of Community Services Nick Apostle reported to Council that protective netting for a driving range is in place at the Northern Community Centre (already protecting the walls from soccer balls).
It was suggested indoor golf programming could run Monday to Friday, 9 a.m. to 4 p.m. (from September to May), and Monday to Sunday, 5 p.m. to 9 p.m. (in April and May).
An increase in part-time staffing would be needed, but that revenue generated would offset the cost of that.
Professional instructors, it is expected, would book time to give lessons.
Apostle's report recommended that four practice ranges per field be set up, at an estimated cost of $35,000 to $40,000, with more ranges possibly added at $8,000 to $9,000 per range.
Golf balls, golf ball buckets and practice mats could be purchased for $1,500.
Council agreed to accept the report and refer it to the 2014 City Budget deliberations.
Chief Administrative Officer (CAO) Joe Fratesi said he anticipated the indoor range would be approved as a 2014 Budget item, as it would be a revenue generator for the City.
On another very un-wintery matter, Council discussed a resolution regarding the establishment of a Splash Park (a public place where children can cool off in summer) in Sault Ste. Marie.
Commissioner Apostle, in a separate report prepared for Council, stated the Rotary Club of Sault Ste. Marie was originally interested in working with the City in a Splash Park project in 2011, but that the Club has since backed off, due in part to the issue of costs.
It is estimated it would cost $300,000 to $500,000 to establish a Splash Park, with that cost easily increasing as a result of operation, maintenance and insurance.
Ward One City Councillor Steve Butland urged Council to move forward with the project, stating money for a Splash Park could be accessed from an existing City fund, adding that projects such as these usually don't make it past the Budget Deliberations stage.
Ward Three Councillor Pat Mick mentioned some of her constituents have informed her that Splash Parks are indeed cost-efficient, with many communities having more than one.
Several other Northern Ontario communities have Splash Parks.
CAO Joe Fratesi urged Council to do some research before taking any action, stating that Splash Parks have been known to be replaced with public swimming pools as a place for children to cool off, and deemed no longer necessary and left largely unused by the public.
Council eventually decided to pass a reworded resolution, whereby the City will research how other communities have established and maintained their Splash Parks, and whether Splash Parks in other communities have been replaced by public swimming pools.