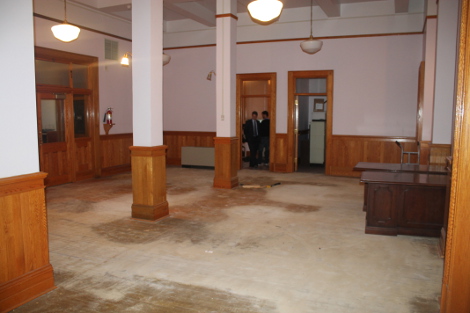 The Algoma Conservatory of Music, formerly located at Algoma University, showed off its new home at Mill Square Wednesday.
Though there is still some reconfiguration of classroom, performance and administrative space to be done at "The General," one of several buildings at Mill Square, music classes and performances will be held at the site beginning September 8, said Guy Traficante, Algoma Conservatory of Music principal, speaking to SooToday.com.
Algoma University signed an agreement Wednesday to lease shared space for its music program at the Conservatory's new home at Mill Square, a three-year agreement with a fourth-year renewal option.
Present for Wednesday's official signing were Riversedge Developments CEO Justus Veldman (the developer of Mill Square), Algoma University President Dr. Richard Myers, Dr. David Gould, chair of the Algoma Conservatory of Music Board and Guy Traficante, Algoma Conservatory of Music principal.
"We've had this agreement with Algoma University for 42 years where we share faculty and facilities, and now moving to Mill Square gives us so much more space," Traficante said.
"The Conservatory is going to be able to develop a tremendous stream of new group classes, bringing music instruction to hundreds more students in the community, and Algoma University will finally have the space to expand their music education programs."
"The building itself is spectacular with high ceilings and oak throughout, every room has spectacular acoustics and we're very fortunate major renovations were done in the 1980s, and the room divisions are perfect for our use, it's an ideal facility," Traficante said.
"The high ceilings give a wonderful acoustic and the building is so solid with tremendous sandstone, and concrete floors which blocks sound between floors, we couldn't have begun to build a building of this quality."
"We were in portable buildings and residence spaces at the University, so this expanded space makes whole streams of new courses possible," Traficante said.
Discussions regarding the Conservatory's relocation began a year and a half ago.
"We have a purchase agreement for this building for $1 million…the current owners were extremely generous to give us early occupancy of the building and we're launching a major fundraising campaign this fall, and that's what will provide funds for the purchase," Traficante said.
The Conservatory will be using the first floor for a concert room which will be able to seat 95 people, along with a social gathering area which will be used to hold events such as concerts and dinners and small weddings, along with administrative space.
The second floor will be for classroom use, and there are plans to eventually utilize the third floor.
There will be five classroom spaces in total.
Currently about 500 families are enrolled in Conservatory programs, with plans to double that over the next five years, Traficante said.
"It is tremendously important because it finally produces a facility that's going to be adequate to develop music programs, violin group programs, Celtic bands working together, expansion of the orchestra that we could not do in the old facility, and in addition it's a tremendous redevelopment of the Mill Square site."
Large Conservatory concerts will also be held at Mill Square's Machine Shop building, Traficante said.
Those concerts will seat 500 people.