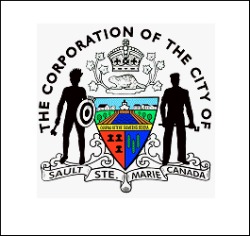 The Sault Ste. Marie Police Service Board, at its regular meeting Wednesday, discussed ongoing work concerning design and final approval of a new coat of arms for the City of Sault Ste. Marie.
The Coat of Arms committee was formed in 2012, out of an urge by municipal officials to create something new and memorable in light of the community's Celebrate 100! festivities.
The committee includes City Clerk Malcolm White, Deputy City Clerk Rachel Tyczinski, Celebrate 100! Project Coordinator Donna Irving, Sault Ste. Marie Museum Director and Curator Kim Forbes, City Councillors Susan Myers and Terry Sheehan, and City Police Service Sergeant Ray Magnan.
Magnan is involved in the committee because the crest worn on City Police Service uniforms will have to be altered, to include not only the new coat of arms, but also the Crown and the motto "Commitment, Excellence, Community."
The coat of arms (unlike the familiar City crest shown here, and currently seen in municipal buildings, on the City flag, City vehicles, documents, etc.) must meet the standards of, and be officially recognized by, the Canadian Heraldic Authority.
The Canadian Heraldic Authority is a part of the Governor General of Canada's Office.
Council, in July of last year, approved recommended elements to be included in the coat of arms.
Magnan told the Police Service Board Wednesday artwork for the coat of arms and the police crest has been done by a certified heraldic artist in Searchmont.
Magnan displayed copies of the coat of arms and police crest artwork to the Board Wednesday.
Not yet ready for public viewing, the artwork includes symbolism pointing to Sault Ste. Marie's fur trade and steel industry, the Clergue Block House, the locks, two wolves (animals, not humans, are included in an official coat of arms and are known as "supporters"), a whitefish, a lily (the flower of St. Mary), and the colours blue (water), grey (steel) and gold.
The motto "Ojibwa Kitche Gumeeng Odena" along the bottom of the coat of arms identifies the community as a First Nations meeting place.
The design will go before City Council for its approval next week, Magnan told the Board, with final approval coming from the Canadian Heraldic Authority.
Once that happens, Sault Police will begin applying the new crest to its vehicles, uniforms, stationery and other items.
"Our changeover could be happening as early as this summer and phased in over the next couple of years," Magnan said, adding "there's money in the budget for the changeover."
City Clerk Malcolm White, speaking to SooToday.com last summer, said he estimated the coat of arms project, with the artist's fee included, would cost the City between $5,000 to $7,500.