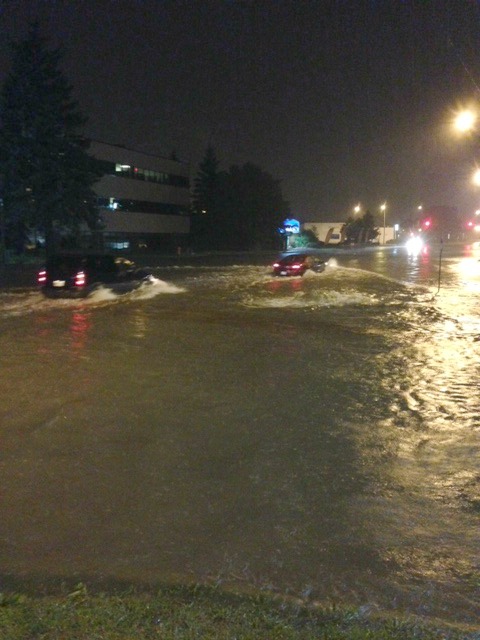 It has been almost a year since heavy rains fell on Sault Ste. Marie September 9, 2013, causing flood damage to homes and emotional trauma for homeowners.
Those whose homes were severely damaged will never forget the heavy rainfall, and neither will those who stepped in to repair the damage left by it.
"We saw many, many houses damaged," recalls Kris Rooley.
Kris Rooley Group Inc. is a local company that specializes in many home services, including basement waterproofing and plumbing needs.
The company has a combined experience of over 65 years in dealing with floods, but September 2013's flooding is one for the books, Rooley told SooToday.com.
"My Dad (Jeff) has been doing this for nearly 34 years and he'd never seen anything like this before either."
Rooley and his repair crews serviced homes all across Sault Ste. Marie in September 2013's floods.
There are two damaged homes that remain especially vivid in Rooley's memory.
One belonged to a west end resident.
"We pulled up to the lady's house, we got out of our truck and we were up to our waists in water going through her front yard."
"When we looked through the basement windows we saw her washing machine was floating up by the ceiling of the basement, with the water coming through the upstairs door," Rooley said.
"We threw out three 20-yard dumpsters (full of debris) and among that were things she could never replace."
"Her insurance company wouldn't help her at all, so we donated all of our time to her and didn't send her an invoice for anything we did…we drained her whole house down, we went in and cleaned out the basement, repaired the foundation, put in some new plumbing," Rooley said.
"We didn't renovate it completely, but we got it up and running and liveable."
Another vivid memory Rooley has of a badly damaged home concerns that of an east end resident.
"The basement actually collapsed, the front wall of the basement literally washed away…I walked through the hole in the front of the house right into the basement."
"It's sad because the insurance companies didn't help a lot of those people…their homes were ruined," Rooley said.
"We saw everything from backed up sewers, sump pumps failed, weeping tile systems were overloaded…I would say the average house we went to had at least a foot of water in the basement."
As well, there was the emotional damage for homeowners.
"There were a lot of tears," Rooley said.
"A lot of houses we went to, we almost left with tears in our eyes, it was so bad."
Rooley was out of town when he was notified of what was transpiring in the Sault.
"We have a call centre that answers the phone for our company after 5 p.m., and I told them 'if it's an emergency, absolutely call me,' and anything else just send for the guys on call."
"I got a call around 11 o'clock that night…the call centre had answered over 200 phone calls and they started patching them through to my cell phone and I answered over 200 phone calls, so in 24 hours we answered over 400 phone calls."
"I drove back the next day and by 10 o'clock I was in a van and on a job site," Rooley said.
"Our crews were great, they worked right around the clock and we did get to everyone that called."
Rooley said his crews were still performing damage repairs throughout the winter, spring and early summer of this year.
"I would say we dealt with between 1,500 to 1,700 homes."
"People are now starting to see September's coming again and they want to make sure everything's ready, in case of another flood," Rooley said.
"We did no restoration work but worked on backed up sewers, faulty sump pumps, faulty weeping tiles, basement leaks, that alone was well over $1 million in damage."
Based on the restoration work involved with the homes, Rooley said "I wouldn't be shocked if it was between $5 million and $8 million."
"Some of those basements were huge, some of them were beautiful, I could see some of them costing $30,000 to $50,000 to bring them back to what they were before."
What should homeowners do to prepare for another flood?
"Backwater valves on your sewer line will prevent sewer backup, weeping tile systems should be maintained, flushed and cleared out, at most, every three years, but if you can do it annually that would be better, and sump pumps should be checked monthly ."
"The sump pump should be turned on and off to make sure nothing is plugged…with regular maintenance, the homeowner can help prevent a lot of problems," Rooley said.
Rooley also said aging sump pumps, or those making strange noises, should be replaced.