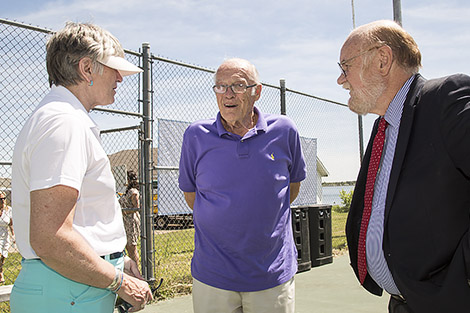 It would have been a beautiful day for some tennis Thursday afternoon, but the dozens of people assembled at the former Rotary/YMCA Tennis and Aquatics Club (RYTAC) on Queen Street will have to wait just a little longer.

Instead they were there for the announcement of the new Sault College Tennis and Boat Club, taking over the RYTAC site with assistance from the Dr. Lou and Mae Lukenda Charitable Foundation.

"We're very pleased to step forward and create this new facility. We are going to grow into it, we are starting off improving the grounds and improving the tennis courts," said Dr. Ron Common, president of Sault College.

"I am sure, knowing the way Sault College does things it'll be something we'll be very proud of," said Ward 2 Councillor Susan Meyers.

The location will be useful for various existing Sault College programs, said Common, including Natural Environment and Outdoor Studies and made available to the students interested in outdoor recreation.

Common also thinks the Construction Carpentry Techniques students will get experience working on the existing clubhouse.

"We are going to look carefully at this clubhouse and decide what we're going to do with it. Are we going to restore it or knock it down and build something else?" said Common.

In his discussions with Dr. Lou Lukenda, Common said it was made clear that that the community at large should not lose access to this resource for recreation.

This is good news for Bill Semour, member of the newly-formed Sault Ste. Marie Tennis Association, which hopes to have access to the courts.

"It was a really, really dark moment for those of us in the tennis world here in the Sault when the YMCA and Rotary made the decision that they did," Seymour said, referring to the closure of RYTAC.

Seymour said he hopes the re-opening of the courts will breathe new life into the tennis community in the Sault.

"We are so pleased to see this open again, it's a beautiful prime piece of property and we look forward to the good things that are going to happen," said Meyers.
(PHOTO: Councillor Susan Meyers, Dr. Lou Lukenda and Sault College President Dr. Ron Common attended the announcement of the Sault College Tennis and Boat Club held June 19, 2014 at the former RYTAC site. SooToday.com/Kenneth Armstrong)
Full text of a news release issued by Sault College follows.
*************************
In keeping with the vision of Sault College to provide a transformative life experience through empowering those who study with us, the Sault College Tennis and Boat Club recreational facility, (formerly RYTAC) located on the beautiful St. Mary's River in Sault Ste. Marie has become an exciting new addition to the Sault College campus.
The generosity of benefactors from the local community, the Dr. Lou and Mae Lukenda Charitable Foundation, came forward to pay for the costs associated with acquiring the property.
A most generous recent gift to the College will benefit both the College's students and help to meet the recreational needs of the larger community.
"The support of Dr. Lou and Mae Lukenda Charitable Foundation for our College is integral to helping us continue to provide college students with meaningful learning experiences such as kayaking, canoeing, long boarding, sailing, and tennis," states Dr. Ron Common, president of Sault College. "For that, we cannot thank them enough."
Sault College's Natural Environment and Outdoor Studies programs, like all those offered to the students who study with us, place dual emphasis on academics as well as applied experiential learning.
With the acquisition of the Sault College Tennis and Boat Club, new learning opportunities for students will include teaching concepts such as adventure, innovation, entrepreneurship, transformation, and integration with the natural environment.
"The vitality of many of our programs is enhanced by our area's surrounding beauty. With this substantial gift, Sault College can continue our work in helping students develop critical skills and capacities that are conducive to leadership and growth for positive change in the local and global workforce," adds Common.
With the new acquisition, the College also plans to continue the tennis operation at its new Tennis and Boat Club as soon as possible, providing a desirable location for tennis in Sault Ste. Marie as well as revitalizing the site and developing programs for the waterfront location in the future.
"The Sault Ste Marie Tennis Association is extremely happy to have Sault College move forward with tennis on our beautiful waterfront," notes Bill Watts, Sault Ste. Marie Tennis Association president.
Sault College would like to thank the Dr. Lou and Mae Lukenda Charitable Foundation for believing in the value of education and for seeing the benefits in delivering a strong post-secondary education programming in our area.
The College will continue to provide strong partnerships and collaboration within our community and will remain committed to educating students in the best way possible in this new location.
*************************