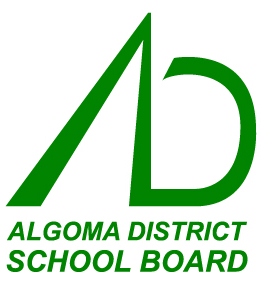 NEWS RELEASE
ALGOMA DISTRICT SCHOOL BOARD
*************************
A little song and dance from White Pine's Spamalot
The Algoma District School Board of Trustees was treated to a musical presentation by White Pines Onstage who performed selections from their upcoming production of Monty Python's Spamalot.
Directed by Sue Barber, the musical will run February 12-15 inclusive at the Community Theatre Centre at White Pines.
Tickets are $15 and may be purchased at the Station Mall Box Office or from White Pines, and show time is 7 p.m.
Musical enthusiasts are reminded that there are two more high school musicals being staged in February and March.
Superior Heights presents Fiddler on the Roof, directed by Anthony Aceti, February 19-22 inclusive at the Community Theatre Centre.
Korah Collegiate will present You're A Good Man Charlie Brown, directed by Denine Williams, February 26 to March 1 inclusive at the Korah auditorium.

Tickets for any individual show (Spamalot, Fiddler or Charlie Brown) are $15, or one can see all three shows for $30.

In April Algoma District School Board (ADSB) is staging a board-wide production of Oliver.
Student actors have already been rehearsing for four months under the direction of Anthony and Christina Aceti.
The production features students from Grade 3 through to students in Grade 12 and represents schools from throughout the District.
Oliver will run April 10-13, 2014, inclusive at the Community Theatre Centre.

Students, supporters of Vex Robotics acknowledged
A number of students and coaches who have been part of VEX Robotics were on hand at the Board meeting to display their schools' robots and various trophies they have won and to tell Trustees what they are gaining from taking part in this unique program.

Students included members of three gold medal teams who competed recently at the Northern Ontario VEX Robotics Regional Competition which ADSB hosted here in Sault Ste Marie in December at Sault College.
These teams, along with the team from Hornepayne, will be going on to compete at the VEX Robotics Provincial competition to be held in St. Catherine's on March 1.
Twelve teams from that event will earn an invitation to the VRC World Championships in April to be held at Disneyland in Anaheim, California.

Teams going to St. Catherine's include BD Boyz from Superior Heights and the Killawatts and Eight-Legged Freaks from White Pines.
Not on hand at the meeting was Hornepayne Octain, Hornepayne High School's robotics team who secured the Excellence Award (Tournament Winner) and took top honours at the Northern Ontario Regional Competition.

At the meeting were representatives from schools who brought along some of their trophies from the Northern Ontario Regional Competition.
Superior Heights Collegiate & Vocational School:
BDBoyz - Max Fisher, Noah Spina. Gold Medal - Game Champions.
White Pines:
8 Legged Freaks – Stephen Bos, Tyler Neveau, Gold Medal - Game Champion along with White Pines Coach Mr. Carlucci.

Other teams that were recognized, though unable to attend were also from White Pines:
8 Bit Limit - Programming Skills Award and Sportsmanship Award
Circuit Breakers
Killawatts - Gold Medal - Game Champion

Jonathon Budau, the Boards' Grade 7-12 Math and Science contact, explained that VEX robotics is a program which allows all ADSB secondary schools to participate in competitive and creative engineering game-based competition throughout the school year.
This program replaces the original FIRST (For Inspiration and Recognition of Science and Technology) Robotics program.
All robots are kit-based, require minimal tools, and allow more access to students across our District.
VEX expectations include engineering design, programming, assembly, testing and robot operations.

Director of Education Lucia Reece commented ""We have seen that robotics, as a competitive and educational platform, serve an important need within our school system. Students learn a multitude of skills which they can incorporate into their post-secondary planning and which may end up shaping careers and future directions."

Tenaris Algoma Tubes has had a long standing partnership with the Algoma District School Board in support of the FIRST program, and now the VEX program.
Director Reece and Chair Jennifer Sarlo presented Tenaris Algoma Tubes representative Megan Parlowe with a certificate of appreciation, acknowledging and thanking Tenaris for their generous donation and ongoing support of ADSB's robotics programs including VEX.

Both Director Reece and Jonathon Budau thanked all the students, coaches, parents, mentors and community partners such as Sault College, Northern Credit Union and Professional Engineering Organization for the commitment they are showing and all the work that has gone in to the development of the teams to date.

Incredible 25 consecutive years dedicated to public education
Much to her surprise, Trustee Wanda McQueen was recognized at the Board meeting for her 25 years of service to public education.
Chair Jennifer Sarlo and Director Lucia Reece presented Wanda with a certificate of appreciation and spoke of Wanda's commitment and dedication to the board.
Former Director of Education Mario Turco was also on hand to acknowledge Wanda's contribution to public education.
Mario and Wanda worked for many years together on the Board.

Wanda McQueen has been with the ADSB for 25 years consecutively, elected first as a Trustee in November 1988.
She was Vice-Chair for two years and in 2002 was chosen as Chair of the Algoma District School Board, a position she held for 10 years.
In her time as Trustee, Vice Chair and Chair, Wanda has served on numerous committees including Teacher Trustee Relations, Auditory Advisory, and Transportation and has been liaison with the School Council Coordinating Committee (SCCC).
She has acted as Alternate Board Director for the Ontario Public School Board Association (OPSBA) and Co-chaired the Annual General Meeting for OPSBA when it was held in Sault Ste. Marie.
Wanda has also been a member of the Finance and Operations Committee and the newly formed External Audit Committee.

Wanda was applauded by Chair Jennifer Sarlo, Director Lucia Reece, Senior Administration and her fellow trustees for her commitment to the Board.
She has been and will continue to be a strong advocate for students, parents and the public, working towards giving students every opportunity to obtain the education they will need to become independent learners, now and in the future.

Games help students with math - overview of prodigy math
The Algoma District School Board is supporting the use of Prodigy, a web-based educational math game.
Teachers of Grades 3 and 6 have been or will be provided training on Prodigy and are encouraged to use the application in all classes of Grade 3 through Grade 6.
Prodigy can be embedded within the teachers' current math program or used as a math centre to support student learning and reinforce math skills.

Prodigy includes over 300 curriculum-aligned math skills providing opportunities for students to master skills in all 5 strands of the Ontario Mathematics Curriculum.
Prodigy also includes an additional Grade 3 and 6 EQAO section, specifically designed based on the past 5 years of EQAO assessments.
Teachers can quickly get an overview of what students have been practising, identify areas for improvement and support small and large group instruction with easy-to-use reporting that updates in real-time.
The assessment feature allows teachers to diagnose student achievement and aligns Prodigy's math content with current instruction.

The game is a fun way for students to practise their math skills in class and at home, further strengthening the school and home connection.
It is designed to ensure students master fundamental math skills, build fluency, understand complex word problems and develop deep conceptual understanding through the use of virtual manipulatives.

Draft 2014/2015 school year calendar
Stakeholders were reminded that feedback can still be provided on the Draft school year calendar for 14/15.
Feedback is requested by Friday, January 31, 2014 and can be provided by visiting our website www.adsb.on.ca and going to School Calendar (under About Us).

There are two questions/considerations on which the four School Boards are requesting feedback from their respective stakeholders:
Should there be a PA Day on June 26, 2015 or should it be moved to April 27, 2015, with June 26, 2015 being the last day of school for both staff and students?
Should the Secondary exam schedule for Semester 1 be scheduled January 23 – 29, 2015 with a PA Day on January 30, 2015 or should exams be scheduled January 26 – 30, 2015 with the PA Day on Monday, February 2, 2015?
ADSB unveils new mission and vision
Last year, following the appointment of Director Lucia Reece, Trustees and Senior Administration, with input from stakeholders, began a process to review the Board's Mission, Vision and Values statements and to establish a strategic plan that would guide the Board's priorities for the next 3 to 5 years.

Through a series of meetings and consultations, a new Mission and Vision were created and Board Priorities were established.
The new Strategic Priorities have been used to draft the 2013-2014 Board Improvement Plan for Student Achievement.

On Tuesday evening, the Board received and approved the Algoma District School Board's Strategic Priorities for 2013-2017 and the 2013-2014 Board Improvement Plan for Student Achievement.

Chair Jennifer Sarlo shared Algoma District School Board's new Mission and Vision Statements:
Mission - We build confident learners and caring citizens.
Vision - Learners in the Algoma District School Board engage in innovative experiences that maximize achievements, build confidence and develop responsible citizens.

Receipt of administrative recommendations report for Aweres Public School
At Tuesday night's Board meeting, the Board approved receipt of
local Aweres Accommodation Review Report;
supporting documentation collected during the Accommodation Review process; and the
Administrative Recommendations Report.
On January 15, 2014, following the completion of four public meetings, the Director's office received the local Accommodation Review Committee Report from the Aweres Accommodation Review Committee.
The report is based on public input received during each of the four public meetings.

Senior Administration has prepared the Administrative Recommendations Report after carefully reviewing all information associated with the Aweres Accommodation Review.

As per Board policy, these documents will be publicly available for a minimum of 60 calendar days prior to the meeting where the Board of Trustees will vote on the recommendation provided by Senior Administration.
Upon Trustee receipt of the ARC documents at the January 28, 2014 meeting, the earliest the Board could vote on the recommendation is April 8, 2014.
*************************