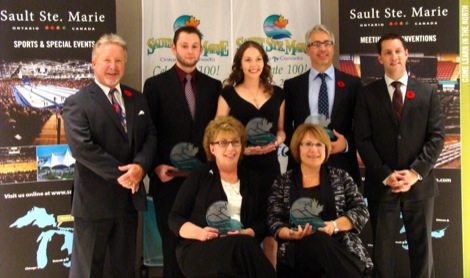 NEWS RELEASE

SAULT STE. MARIE
ECONOMIC DEVELOPMENT
CORPORATION

**************************
Tourism Sault Ste. Marie hosted its 10th annual Tourism Awards, last night, at Comfort Suites and recognized five individuals and businesses that made significant contributions to the tourism industry.

There were more than 150 tourism, business and political leaders in attendance, including Sault Ste. Marie MPP David Orazietti, who said: "I am pleased to be able to represent the Provincial Government in helping Tourism Sault Ste. Marie celebrate some special businesses and individuals, who have helped develop a strong tourism industry here in Northern Ontario."

Mayor Debbie Amaroso was also in attendance and stated: "City Council recognizes the valuable contribution that the tourism industry makes to our economic well-being here in Sault Ste. Marie, so I am very pleased to be able to help celebrate the amazing contributions these individuals and businesses have made to the tourism industry."

Tourism Sault Ste. Marie Executive Director Ian McMillan said: "This was our 10th Annual Tourism Awards Gala, and for the first time in years, we could celebrate a positive tourism season, marking increased visitation, especially from the U.S. market. The people and businesses in this room that we recognized tonight, contributed significantly in helping our industry turn the corner after some challenging years."

The award winners were as follows:

Tourism Award of Excellence

This award is for an individual who has significantly impacted the development of tourism in Sault Ste. Marie. He or she has provided long-standing and exceptional service; has demonstrated an entrepreneurial spirit, leadership and integrity; as well has established a strong legacy through passing on their experience to others to further benefit the tourism sector. This individual has gained respect of those in the tourism industry.

2012 Recipient: Carol Caputo

Business Of The Year

This for-profit business in the private sector has demonstrated leadership by investing equally in both staff and customers through staff training or special programs and through value-added undertakings for the customer. The presence of this business leads to the provision of a better total tourism product in Sault Ste. Marie.

2012 Recipient: Agawa Canyon Train Tour

Customer Service Award

This award is intended to recognize an individual employed in the tourism industry who has contributed to the betterment of the tourism experience for visitors. He or she exhibits a courteous, friendly manner; is customer service oriented and regularly goes beyond the expected duties and performances of their job responsibilities.

2012 Recipient: Marla Fantham

Tourism Ambassador Award

This award is designed to recognize an individual or group who, while functioning as a volunteer(s), has made a significant contribution towards strengthening our local tourism economy, helping to achieve impressive results. This individual or group has undertaken their work in the capacity of a volunteer and not as part of their regular paid employment.

2012 Recipient: Nicholas Apostle

TSSM Student Hospitality Award

This award is designed to recognize a second year Sault College Student in the Hospitality Management Hotel and Resort Program. This award will be selected by the faculty of Sault College based on academic performance in the first year and the cooperative education work term. In addition, the recipient must have demonstrated a positive contribution to the program and the hospitality industry.

2012 Recipient: Giovanni Rossi

**************************
Pictured: Back row (L to R): Ian McMillan, Executive Director of Tourism Sault Ste. Marie; award winner Giovanni Rossi, a student in Sault College's Hospitality Management Hotel and Resort Program; award winner Marla Fantham, from Delta Sault Ste. Marie Waterfront Inn; award winner Nicholas Apostle, Commissioner of the City's Community Services Department; MPP David Orazietti.

Front row: award winner Carol Caputo, Executive Director of the Algoma Kinniwabi Travel Association; and Kelly Booth, Manager of Passenger Operations for Algoma Central Railway.