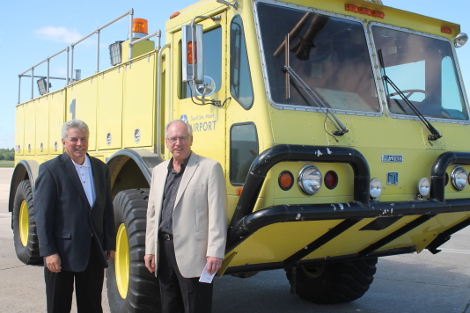 Sault Ste. Marie Airport has become a busier place in recent years thanks to the addition of Porter Airlines as one of the facility's air carriers, as well as the addition of charter flights to seasonal vacation destinations.
As a result, Sault Ste. Marie MP Bryan Hayes announced nearly $800,000 in federal government funding Thursday for the Sault Ste. Marie Airport Development Corporation (SSMADC) to purchase a new, modern fire truck.
Hayes is pictured here with SSMADC Chair Jerry Dolcetti after Thursday's funding announcement.
The fire truck shown here, currently in use at the Sault Ste. Marie airport, dates back to 1987.
The total cost for a new E-1 fire truck (expected to arrive by October 1, 2013) is $797,527.
Federal funding for any major airport purchase or project is tied directly to any given airport's passenger levels.
Passenger levels have increased at the Sault Ste. Marie Airport over the past two years by 55 percent.
SSMADC Chief Executive Officer Terry Bos told reporters Thursday: "At the end of June 2013 we reached 187,065 passengers."
"We hit the 180,000 mark September 30, 2012."
Funding for the new fire truck comes from the federal government's Airports Capital Assistance Program (ACAP).
Dolcetti said the new fire truck helps the SSMADC with its airport master plan, stating "safety is key."
14 projects at the Sault Ste. Marie Airport, Hayes noted, have been funded through ACAP since the start of the program, for a total of $7.8 million.
Among those was federal support, combined with provincial funding, for JD Aero's operations at the Sault Ste. Marie Airport.
The aircraft maintenance company currently has 28 employees, Hayes said, adding "we (the federal government) recognize the significance of air ports."
Dolcetti stated that overall, the facility has received over $10 million in federal funding over the past few years.
Bos described the new E-1 truck as "all-wheel drive, designed to go anywhere on an airfield in quick, rapid response."
"It has the foam capabilities that would extinguish an aircraft fire if one happens. We've never had a fire and hopefully never will, but this will be a rapid response vehicle that can go over all terrain and respond to any issues."
The SSMADC will put the existing fire truck up for sale, Bos said.
Dolcetti stated: "With the announcement we have had this morning, we are also going to be in a position to hire six more people (all firefighters) as part of that process in improving safety for our airport."
Dolcetti said: "The actual department is a part of our maintenance garage, just adjacent to the existing terminal, as well as hangars we have here. It's quite large. It can accommodate the new vehicle as well as the extra staff."
Moving forward, Dolcetti told SooToday.com: "We will be planning for the next three to five years to increase our passenger levels, currently at about 186,000, to over 200,000. That's our key in the next three to five years to build that passenger load," he said, pointing to a busy terminal Thursday morning.
"The more passengers we have, the easier it is to attract more airlines."
Dolcetti added that the SSMADC hopes to establish the airport as a connection to Western Canada.
"It's a work in progress. We certainly believe we have the need for that particular activity."
"There's a lot of traffic that wants to get to the Western part of Canada, and right now there's only one aircraft accommodating that, and that's Air Canada Jazz."
Air travelers to Western Canada currently must fly first to Toronto and grab a connecting flight out west from there.
Dolcetti said: "We've made our submissions to WestJet and it's up to them. If there are other carriers interested, we will certainly be a part of the discussion process with them."
Dolcetti added arranging charter flights to destinations such as the Dominican Republic's Punta Cana "is a much more complicated system in terms of making flights available and also having the equipment from the various carriers to accommodate that."
"Las Vegas and Florida have come up as places where people want to travel to, and it's important for us to respond to that need, and we have with our flights to Punta Cana."
"It's a long process, and we didn't think we would get flights to Punta Cana but we worked at it and two years later, here we are," Dolcetti said.
A news release issued today by the Sault Ste. Marie Airport Development Corporation follows.
*******************************
Sault Ste. Marie Airport Development Corporation expands short-term parking area, replaces parking meters with gated parking area

SAULT STE. MARIE - The Sault Ste. Marie Airport Development Corporation (SSMADC) is expanding the short term parking lot to meet the increased need.

The short term parking will be expanded by 25 percent in order to provide additional convenient parking to drop off and pick up travellers.

To accommodate this expansion, the meters will be replaced with a new gated parking system.

Short term parking will be $2 per hour.

Vehicles that are left for longer periods of time will be charged at rates of $20 per day and $80 per week respectively.

The long term parking area will remain at $2 per hour, $10 per day and $40 per week.

The gated system will allow travellers to pay by credit card at the exit gate or by cash or credit card at the pay station in the terminal, located adjacent to the security office.

"The SSMADC has been encouraged by the increases in passenger levels seen in the previous two years and is expanding parking to meet these needs. In 2012 the long term parking area was expanded and now in 2013 the short term parking is being expanded to meet the increased demand," said Airport CEO Terry Bos. "We feel the new gate system will be more convenient to the traveller by avoiding the issues of malfunctioning meters and adding the ability to pay via credit card."

*******************************