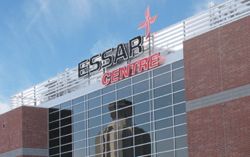 The Essar Centre lost money last year, city council was informed at its meeting Monday.
Nick Apostle, the city's community services department commissioner, presented council with the Essar Centre's 2013 annual report.
The numbers in the report show total revenue for the Essar Centre in 2013 was $1,678,512.71.
Total expenses, however, came in at $2,089,090.09, resulting in a loss of $410,577.38.
The Essar Centre did not generate a profit in 2012 (rather, a $537,767.44 deficit).
Historically, the sports and entertainment centre has not been a money-maker.
As was the case with the 2012 report, councillors had questions as to why the 2013 report showed a deficit instead of generating profit.
In response to questions from council, and speaking to SooToday.com, Apostle said facilities like the Essar Centre are primarily community centres, not huge revenue generators.
"Through consultants, and through our own findings, we've seen there are very, very few spectator facilities that break even or make money in Canada, and certainly in northern Ontario they are considered community buildings," Apostle said.
"It's a community building to help us celebrate our community," Apostle said, recalling this year's Essar Centre celebration to honour Team Jacobs, as well as events such as annual Remembrance Day ceremonies.
"They cost the taxpayers money, but these events benefit the community," Apostle said.
"We built it (the Essar Centre) on the premise that it would not cost the city any more to operate than the old Memorial Gardens, and we've been able to manage that," Apostle said.
The deficit for 2013, Apostle said, was due to expenses such as staffing and utility costs.
The Essar Centre has three primary revenue streams.
They are shares of Soo Greyhounds ticket sales, ice rentals and food and beverage sales.
Revenue from Greyhounds ticket sales (as well as a share of Greyhounds advertising revenue and rental of the Corporate Suite at Greyhound games) came in at $141,341.04 for 2013.
Suite lease fees brought in $124,001.59.
"The agreement with the Hounds is such that the majority of initial ticket revenue (the first $1 million) goes toward making sure the team is viable, and then as the team does well (if they progress in the playoffs, especially), we share in that," Apostle said.
Food sales brought in $529,509.86, alcohol sales $345,434.34.
$111,221.85 came in through ice rentals.
Even then, Apostle said ice rental fees in northern Ontario are capped and subsidized.
"We don't charge what it actually costs."
The 2013 Essar Centre report to council shows current ice rental rates are approximately $110 per hour for organized youth rental, $130 per hour for non-organized youth rental and $140 per hour for adult rental.
The report states "in a cost recovery scenario, the rental rate would be in excess of $250 per hour."
Presently, $20 from each hour of ice time rental at all arenas goes towards payment for the John Rhodes Community Centre expansion, begun in 1999.
That debt will be paid off in 2019.
Though the Essar Centre is classified as a municipal building, not designed to generate a lot of profit, Apostle nevertheless told councillors they will be pleased with the revenue generated by events to be held at the facility later this year.
Cirque du Soleil's Dralion show will be at the Essar Centre October 29 to November 2, followed by The National, a Grand Slam of Curling event, November 19 to 23.
"The building was built to attract more shows and events, and in addition we are hiring a new manager for the Essar Centre and that person will be responsible for more actively seeking out special events," Apostle said.
Some events, Apostle said, do not necessarily generate a lot of direct revenue to the Essar Centre, but do generate "a huge amount of revenue from visitors to the community, for the hoteliers, the restaurants and different shops."