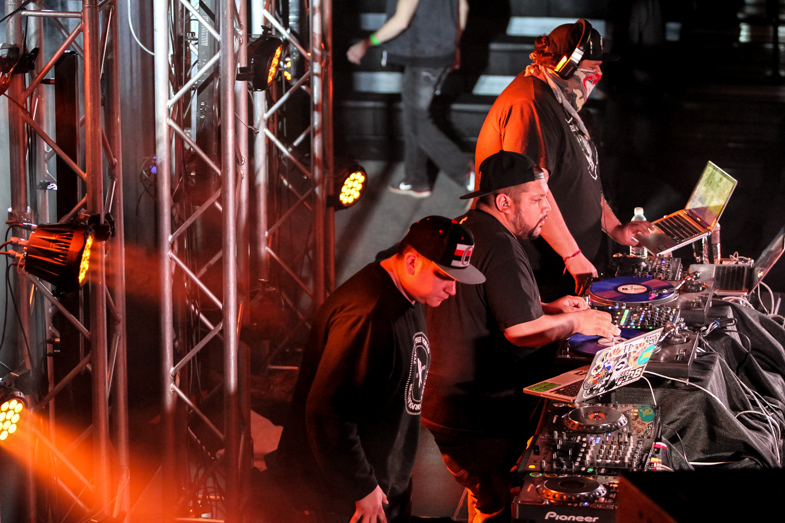 When DJ Shub, DJ NDN and Bear Witness first began collaborating on dance music in the Ottawa club scene, they had no idea that in just a few short years they'd be short-listed for the Polaris Music Prize.

And the idea of winning a Juno Award never entered their heads.

The trio just wanted to throw a killer dance party with the Indigenous community in mind, not unlike other culturally specific parties that had gained popularity in the region.

Since its formation in 2010, A Tribe Called Red's unique and infectious blend of traditional Pow Wow beats and vocals with urban electronic music has amassed a wide audience of indigenous and non-indigenous fans alike while garnering tremendous critical acclaim.

DJ NDN told SooToday.com the marriage of genres immediately clicked and made perfect sense.

"We realized really quickly that all we were doing was just matching up dance music with dance music. Both were made to make you dance in a specific way," he said. "They're both very much beat-driven."

"As an Indigenous person growing up in the city and being immersed in electronic music, it was part of my culture too," he explained. "It was all my culture. There was no mashing together. It was more the meeting of contemporary and traditional than it was two cultures coming together."

This alliance of beats has sent A Tribe Called Red on a path skyward, blasting past any humble objectives they could have foreseen.

The group's first self titled release landed on the 2012 Polaris Music Prize long list and was named one of the best albums of the year by the Washington Post.

A Tribe Called Red's 2013 followup release, Nation II Nation, saw them once again in the Polaris spotlight, this time on the short list of the 10 best Canadian albums of the year.

Nation II Nation also earned them four Aboriginal Peoples Choice Music Awards for Best Album Cover Design, Best Producer/Engineer, Best Group or Duo, and Best Pop CD.

And most recently, A Tribe Called Red was awarded the trophy for Breakthrough Group of the Year at the 2014 Juno Awards.

"We shattered any sort of goal we had with A Tribe Called Red. It's really exciting. I don't know what's coming," said DJ NDN.

"I just wanna keep challenging myself, creating new things and see where we can take this. It's gone further than we ever imagined it could have," said Bear Witness.

In addition to the accolades and hoards of fans, A Tribe Called Red has become "the face of an urban Native youth renaissance, championing their heritage and speaking out on aboriginal issues."

As much as a their live show is about the music, Bear Witness creates accompanying visuals that reclaim pop culture Aboriginal imagery to dispel common cliches.

"It's not really breaking down stereotypes. The stereotypes have been broken. They've been smashed and incinerated. It's dead and gone. It's trying to get the rest of the world to realize that we're not the stereotype," said Bear Witness.

Hosted by Passport to Unity, A Tribe Called Red spent the day in Sault Ste. Marie on Saturday, May 3 taking part in a Q&A session with CBC's Waubgeshig Rice in the Enji Maawnjiding Centre at Sault College followed by a live performance in the College's new Health and Wellness Centre.

Joining A Tribe Called Red on stage were Sault urban artists LOCAL (Mic Swiff, JFK and DJ Seith) and Outspoken.

A Tribe Called Red also brought with them as a special guest James Jones from Edmonton, a talented hoop dancer who blends traditional Aboriginal styles with modern break dance.

During Saturday's show, Jones leapt into the crowd and lead the entire audience in one massive round dance at the conclusion of the set, a definite highlight for everyone in attendance.
To view a gallery of photos from A Tribe Called Red's performance, please click here.
For some video coverage of A Tribe Called Red's performance and interview, click here.

For more information about A Tribe Called Red, please click here where you can download their entire first album for free.
Additional SooToday.com Passport to Unity coverage