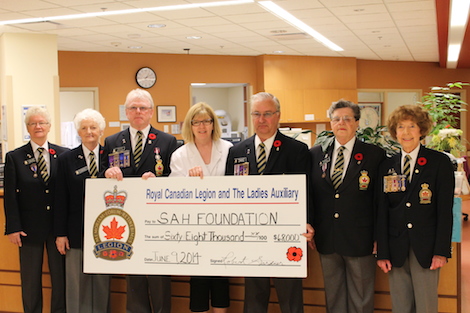 NEWS RELEASE
SAULT AREA HOSPITAL FOUNDATION
*************************
The Sault Area Hospital Foundation was the recipient today of a cheque for $68,000 from the Royal Canadian Legion Branch #25 Poppy Trust Fund.
The donation is to cover the cost of a new Ventilator for the NICU (Neonatal Intensive Care Unit) which will help newborns maintain proper blood gas levels along with assisting with their breathing and two additional Fetal Monitors with Telemetry for the birthing rooms to monitor the unborn baby's heart rate while still in the womb.
The donation, which was made today, "has to be one of our biggest undertakings," said poppy chairman, Rob Gardiner. "We just felt that this year we were in a pretty good position to go ahead and give them the full amount".
Gisele Anderson, Manager of the Maternal/Child Department accepted the cheque in the department from the Poppy Fund Committee and took the group on a tour to show them the importance of the equipment and explained what it will do for the patients it will serve.
"This is absolutely incredible and I would like to express on behalf of my staff and myself how appreciative we are of the work of the Royal Canadian Legion Poppy Trust Fund and their generosity," said Anderson.
"The money that the committee has donated is going to something here in Sault Ste. Marie that's going to benefit mothers-to-be," said Gardiner. He continued, "the Branch 25 poppy campaign has donated $210,254 to the Sault Area Hospital Foundation since 1989 and that is a pretty impressive figure."
The Sault Area Hospital Foundation is the primary source of funding for equipment at the Sault Area Hospital and the approved capital list for this year is set at $1.257 million.
"This generous donation will assist us greatly in reaching our goal and we are very thankful to the Royal Canadian Legion Branch #25 Poppy Committee," said Cheryl Pavoni, Executive Director.
*************************