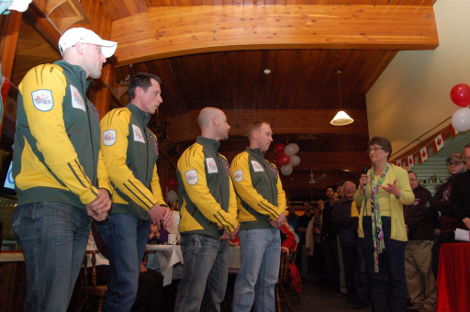 Team Jacobs brought the Tim Horton's Brier home last night as promised.
Among the dignitaries to welcome the first rink to win the Brier for Northern Ontario since 1985 were Sault MP Bryan Hayes, Mayor Debbie Amaroso and Jo-Anne Brooks from Eazy Express (shown).
Skip Brad Jacobs, lead Ryan Harnden, second E.J. Harnden and third Ryan Fry pulled off the stellar win on Monday and, on Tuesday, the Sault curling rink on Anita Boulevard was ablaze with red and white and Canadian flags to congratulate them.
"2013 Tim Horton's Brier Champs - What an amazing feeling - thank you everyone for your amazing support, we are very lucky to have so many great people that support us every step of the way - this win proves that when you work hard, you make sacrifices and you believe in yourself, you can achieve anything - We will wear the Maple Leaf with pride and ensure the World Championship trophy stays in Canada!," said the team Facebook page on Monday.
Tuesday it was further updated.
"Just to clarify - when we said "ensure" what we meant was we will do our best to make sure the World Championship trophy stays in Canada :) - Thank you again everyone for the unbelievable support - What makes this so special is not just how much this win meant to us, but also how much it meant to so many other people - wow what a feeling - taking the week off from the ice and then preparation begins this coming Sunday until we leave!"
Team Brad Jacobs will next represent Canada at the Ford World Men's Curling Championship from March 30 to April 7.
(Photos provided by Rod Aubertin)