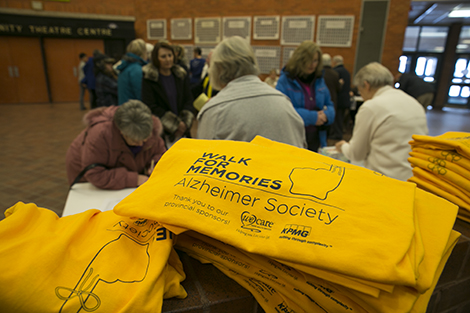 On Sunday January 26th the Alzheimer Society of Sault Ste. Marie and Algoma District held their 16th Annual Walk for Memories at White Pines Collegiate.
Over 100 participants laced up for the event that supports local programs for people living with Alzheimer's disease and other dementias.
"We are overwhelmed with the support of the community for the walk this year," said Bea Fioramanti, Fund Development Coordinator for Sault Ste. Marie. "This year we raised over $33,000."
The scene inside the school was a bright and cheerful one compared to the large amounts of blowing snow and frigid temperatures that the walkers endured to get to this year's event.
Balloon hats, painted faces and the yellow Walk for Memories shirts could be seen throughout the hallways as both young and old stepped forward for a cause that touches so many people.
"I got on board with the Walk for Memories to support my co-worker whose mother lived with Alzheimer's disease," said Beverly Szatanski, 10-year walk participant and member of Team RBC. "This disease is something that affects not just the person diagnosed but the entire family so it's important to raise awareness and at the same time we are supporting the local chapter and the services they offer. "
Complimentary massages were offered throughout the event and top pledge earners and sponsors were honoured after the one-hour walk.
The Alzheimer Society of Sault Ste. Marie and Algoma District is set to host their second Walk for Memories to support their Elliot Lake location this Saturday, February 1st.
For more information on the Elliot Lake walk, or to get more information on the services offered by the local society please visit their website at www.alzheimer.ca/algomaor call 705-942-2195.
For more on this story, please click here