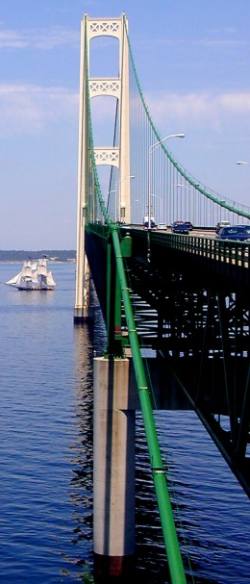 NEWS RELEASE
MICHIGAN DEPARTMENT OF TRANSPORTATION
*************************
30,000 people for the 57th Annual Mackinac Bridge Walk today
About 30,000 walkers crossed the Mackinac Bridge on this year for the 57th installment of the Labor Day tradition.
Prior to the walk, 350 runners celebrated the Pure Michigan FIT campaign and hit the bridge deck to promote and encourage healthy physical activity in communities throughout Michigan.
"The Annual Bridge Walk is the one time of year that we allow walkers on the bridge to enjoy our historic civil engineering landmark and the incredible views of the Straits of Mackinac," said Mackinac Bridge Authority (MBA) Executive Secretary Bob Sweeney.
Participants can share their stories and photos from the walk, through Sept. 7, atwww.facebook.com/MichiganDOT. One person will be randomly chosen for a bridge tower tour, while the person who travels the farthest will receive a Pure Michigan gift pack. For more details on the Mackinac Bridge Walk social media promotion, go to the MDOT Facebook page.
The contest is a joint effort between the Michigan Department of Transportation (MDOT), the Mackinac Bridge Authority, and the Michigan Economic Development Corporation (MEDC).
*************************