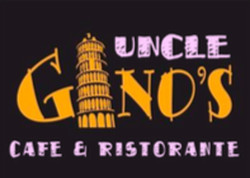 NEWS RELEASE
UNCLE GINO'S CAFÉ
*************************
Uncle Gino's Café is celebrating 30 years of business throughout the month of November with weekly specials, thanking the community of Sault Ste. Marie for their continued support!
On November 15, 1985 Gino and Maria Calvano opened the doors to Uncle Gino's Café at their original location of 456 Second Line W and began a Sault Ste. Marie dining tradition that would last three decades and offer three generations of homemade authentic Italian cuisine.
Gino Calvano, an Algoma Steel plant worker who was laid off from his position at the time and his wife Maria who had cooked for a variety of restaurants locally, including Rico's catering, made the brave decision to go into business for themselves in order to provide for their four children.
"They worked so hard to make the restaurant a success!" remembers Laila Boston, daughter of Gino and Maria Calvano and current owner of Uncle Gino's. "My mother would be cooking in the kitchen daily from 6am to 1am and my father renovated the entire restaurant by himself."
The business began to grow quickly and after a successful five years at the original location, the Calvano's decided to move to a bigger location at 56 Second Line West, where the restaurant stands today.
After the un-timely passing of Gino Calvano in 2002, Maria and daughter Laila Boston kept the family tradition alive in honour of their husband and father.
"My mother is our hero and the back bone of this restaurant", states Laila. "My mom and dad sacrificed everything to build this business so that our family would have a good life. They taught us that with hard work and dedication, you can accomplish anything you set your mind to."
In 2011, Katie Boston, granddaughter of Gino and Maria Calvano, and daughter of Laila Boston, graduated from the Culinary Arts program at the Art Institute of Vancouver.
The future looks bright for Uncle Gino's as Katie has applied her expertise and skills to upgrading the menu, offering fine dining dishes and award winning baking.
Uncle Gino's recently was awarded "1st Place" at the Mill Market Butter Tart competition, "People's Choice" for best pizza at the Habitat for Humanity Pizza competition and 1st place in both "Best Appetizer" and "Best Dessert" at this year's Pumpkin Festival Taste off at the Roberta Bondar Pavilion.
Uncle Gino's Café completed a full renovation to their dining room in August of 2014.
To celebrate 30 years of business, Uncle Gino's is offering the following weekly specials:
Nov. 3-5 – Half price appetizers with purchase of any entrée.
Nov. 17-19 – Two can dine for $30.99 (two entrée choices, dessert, and coffee/tea).
Nov. 23-26 – Buy one pasta dinner (penne or spaghetti) and get the second half price.
For more information please contact Uncle Gino's Café at 705-949-8506.
About Uncle Gino's Café
Uncle Gino's Cafe caters to those who crave an authentic Italian cuisine. Our dishes come from recipes passed on from our Italian ancestors.
We are a local, family owned business that offers members of the community and their families the opportunity to taste Italy!
Uncle Gino's Café, 56 Second Line W, 705-949-8506, www.facebook.com/UncleGinosCafe
*************************