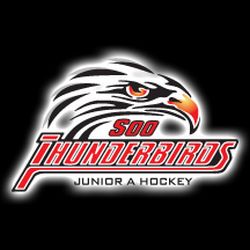 And the streak goes on.
The Soo Thunderbirds beat the Sudbury Nickel Barons 4-3 in Sudbury on Wednesday night to extend their current winning streak to 20 games.
Thunderbirds goaltender Joel Horodziejczyk stopped 30 shots in the win, including 15 in the opening period.
Anthoyn Miller had a goal and an assist for the Thunderbirds in the win while defenceman Owen Headrick set up a pair of goals in the win. Gavin Burbach, Joey Miller and Eric Hilock also scored for the Thunderbirds in the win.
Jimmy Roy, Kurtis Clouthier ad Dylan Callaghan scored for Sudbury in the loss. Nickel Barons goaltender Michael Muzyka stopped 31 shots.
The Thunderbirds will look to extend their winning streak on home ice this weekend as they host the Abitibi Eskimos on Friday night and the Elliot Lake Bobcats on Saturday at the Essar Centre. The Thunderbirds will look to also extend their home-ice winning streak to 22 in a row to start the season. The team has yet to lose on home ice this season.