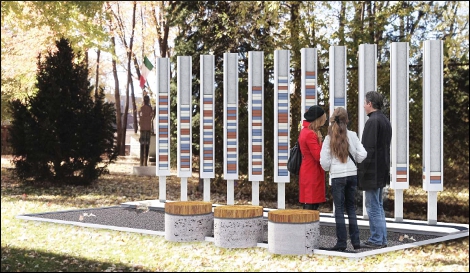 Organizers planning a labour memorial in Toronto are asking SooToday readers to help identify Italian workers who died in job-related accidents or from industrial diseases in Northern Ontario from 1900 to 2015.
The Toronto-based Italian Fallen Workers Memorial Committee is preparing a list of fallen workers to be inscribed on the memorial, which will be constructed on the grounds of Villa Colombo, a long-term care home in Toronto.
The project is spearheaded by Marino Toppan, an important figure in Canadian labour history who spent 40 years as a union leader and activist, often involved with victims of workplace accidents.
"The memorial will be comprised of eleven columns," Toppan tells SooToday.
There will be one column for each decade from 1900 on.
The last column will commence with the year 2000 and will be open-ended.
"We hope not to have to add any more names, but unfortunately we will have to add the name of our latest victim, Luigi Cudini, a bricklayer killed in a construction accident last month in Toronto," Toppan says.
Sixties labour hero
Born in Basedo di Pordenone near Venice in Northern Italy, Toppan came to Canada in 1955 with some bricklaying experience.
Like many Italian immigrants, he found work in the construction sector.
As president of Local 40 of the Builders' International Trade Union, Toppan played a major role in the "Immigrant Uprising" that followed the death of five Italian Canadian workers killed in March, 1960 when a flash fire ignited in a cramped, slimy tunnel they were building under the Don River at Hogg's Hollow, near Yonge Street and Old York Mills Road in Toronto.
The tunnel caved in after rescuers shut off compressors that were forcing air into the tunnel.
The men's bodies were found smothered in quicksand, two brothers kneeling in what one news report described as a posture of prayer.
With help from fellow labour organizers, Toppan then worked to shut down many other construction sites in Toronto and other parts of Ontario.
Their construction-industry uprising resulted in a royal commission that in turn prompted major changes to Ontario's occupational health and safety law.
He went on to host a radio program called La voce del lavoro and authored a biographical book, The Voice of Labour, A Life in Toronto's Construction Industry.
Letter to the consul-general
Recalling his days as a labour activist, Toppan told SooToday: "When we lost a member to an accident or industrial disease, we would call out his name at our monthly meeting and observe a minute of silence."
This, he says, was commendable but not enough.
"People soon forget. When I retired I started to promote the idea of a memorial to remember all the workers in our community who paid the ultimate price."
Toppan started by sending a letter to Gianni Bardini, consul-general of Italy.
Bardini liked the idea and placed the proposal on the agenda for the next meeting of Italian community leaders in Toronto.

"The Idea was accepted immediately and we proceeded to organize an ad hoc committee and started working to raise the funds and obtain a list of fallen workers."
Villa Charities agreed to provide a site for the memorial at its Villa Colombo home in Toronto.
High price of flagpoles
"Raising the funds for the memorial hasn't been too difficult and I think that we are very close to our goal, although there is always need for more," Toppan says.
"I just found out that a decent flagpole, for instance, costs more than a thousand dollars, and we need three of them; the Italian, the Canadian and the Ontario."
However, Toppan encountered another major roadblock: citing privacy law, the Ontario government could not provide a list of the fallen workers.
So the committee started reaching out to Italian communities across Ontario.
So far, a list of almost 200 names has been compiled.
"The original plan was to start the list from the end of the second world war, when the big wave of Italian immigrants chose Canada to start a new life," he says.

"But how could we ignore those poor immigrants who lost their lives before the second world war? Like the case of Luigi Michelin. He came to Canada in the early thirties and when he made enough money went back to Italy and married his sweetheart, stayed there until she gave him a baby boy and came back to Canada just before the war started."
Killed in Timmins. Wife informed one year later
"He worked in the mines of Timmins until he got killed in an accident in September of 1943. His widow learned of his death only after one year through the Red Cross, and as soon as his son became of age, he immigrated to Canada. The first thing he did was go to Timmins to light a candle on his father's grave."
Next, the committee started to comb through the Archives of Ontario and old newspapers.
"We found so many other names from Sudbury, Timmins, Porcupine, Fort William. To trace the names of those killed in the mines hasn't been too difficult as they are well documented by age, marital status and nationalities."

"The most difficult ones to find proved to be those who lost their lives while working to lay the tracks for the railroads, since the companies like CPR did not hire directly but instead contracted out to subcontractors who didn't feel the need of keeping a proper record. Worker Number so-and-so, known as Luigi or Giuseppe, was good enough for them. And when the job was done, they would pay the men (or not) and start anew when another job was available."

The Toronto memorial is designed to allow more names to be added in the future.
But Toppan wants to add as many as possible now.
A book, too?
"The memorial will be like an anchor, right in the capital city of Ontario, but we are also hoping to be able to publish a book with all the information we gathered about the Italian immigrants; our successes and our losses, as we need to remember our compatriots who with their ultimate sacrifice made our workplace much safer for the new generation. Their names must be remembered. We owe it to them."
Toppan points out that the names on the monument will reflect a broad diversity of industrial sectors.
"While most of the casualties have neen suffered in the mining industry and in the construction fields of Ontario, there have been firefighters killed by work-related lung cancer, to taxi drivers robbed and killed by their fares.... to helicopter pilots and policemen ."
"Victims of any disease caused by their employment, by being exposed to asbestos or any other harmful material, are considered victims of work-related causes and their names should also be remembered in our memorial," he said.
How you can help
Names to be considered for the memorial may be submitted to Mario Mara at fmmarra3@gmail.com or Marino Toppan at marinotoppan@hotmail.com
Donations to help construct the memorial are being handled by Villa Charities, a registered non-profit organization.
They may be mailed to Villa Charities (re: Memorial), 901 Lawrence Avenue West, Toronto, Ontario, M6A 1C3.
(PHOTO: Architectural design concept for Toronto memorial prepared by Giannone Petricone Associates.)