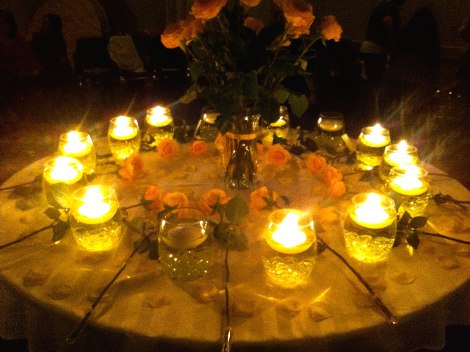 SooToday.com received the following account of Tuesday evening's event at Sault College held in conjunction with the National Day of Remembrance & Action on Violence Against Women. The story and photos are by loyal SooToday.com reader Rachel Marzetti.
*************************
National Day of Remembrance & Action on Violence Against Women
In Ontario alone, since 1990, 526 women and children have been murdered at the hands of intimate partners.
Women In Crisis (Algoma) Inc hosted a "National Day of Remembrance & Action on Violence Against Women" ceremony this evening at Sault College to honour the women whose lives were tragically taken at L'École Polytechnique, Montréal in 1989.

The commemorative event began with the Healing Lodge Singers performing two songs; Strong Woman Song, and Women's Warrior Song; both of which honour women who have passed on.

Dale Kenney, guest speaker, provided details about what happened on that fateful day in December, 1989.

"We hope that you will leave with some inspiration," stated Kenney in her opening remarks.

Whether you call what happened in Montreal a hate crime, gender specific, or the work of a madman, Kenney went on to say, "I like to think that it's all of those things. Make no mistake, it is gender related. We do not have gender equality in this province, country, world."

Kenney continued by stating that, "we are here tonight to honour all of our loved ones."

In the center of the room was a round table, adorned with a vase containing fourteen yellow roses, surrounded by fourteen glasses containing white candles floating in sunshine-yellow coloured water.
Renee Delarosbil presided over the rose dedication and candle lighting ceremony.

As she called the names of each of the fourteen women and spoke about their short lives, select members of the audience placed a yellow rose on the table and a candle was lit.

This was followed by a short moment of silence.

A special video presentation, developed by Patricia McDonald, was shown.

In the video, it stated that in 1991, Parliament of Canada declared December 6th to be National Day of Remembrance & Action on Violence Against Women.

Alfreda Trudeau of the Sault Ste. Marie's Indian Friendship Jingle Dress Dancers followed the video presentation.

She provided information, not only about the facts and statistics surrounding violence against aboriginal women, men, and children, but also about the "I Am A Kind Man" program, which "teaches aboriginal men to stand up to stop violence against aboriginal women."

She then performed a healing dance, accompanied by the Healing Lodge Singers.

"We're here in unity," stated Trudeau.

Closing remarks were provided by Jenna Van Hoek

Refreshments, snacks, and a token of appreciation was provided, following the ceremony, by the ladies from Women In Crisis (Algoma) Inc.
*************************