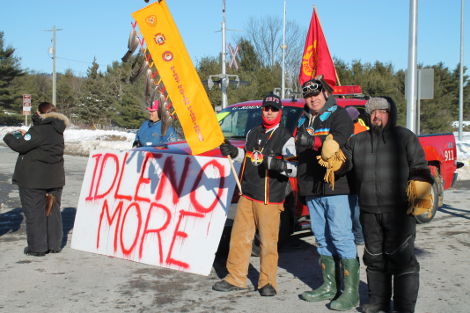 The momentum of the Idle No More protest movement by Canada's First Nations communities came to the Sault Ste. Marie area Thursday.
A blockade at the beginning of the Highway 17 four-lane highway east of the city by area First Nations began at 8 a.m. Thursday, and was scheduled to continue for 12 hours.
The blockade, which held up traffic for 15 minutes every hour, was peaceful when SooToday.com arrived at 12 p.m.
Police were on scene directing traffic through.
The Idle No More movement of protests and other activities (http://idlenomore.ca/) sprang up among First Nations communities coast to coast partly in response to the federal government's omnibus budget bill, known as Bill C-45, which was passed earlier this month.
First Nations communities say Bill C-45 removes environmental protection of waterways and makes it easier to sell native land to private corporations.
Idle No More is also in support of Attawapiskat First Nations Chief Theresa Spence, currently on a hunger strike and demanding a meeting with Prime Minister Stephen Harper over the legislation.
So far, Harper has not met with Spence.
Harold (Bo) Corbiere, a candidate in the upcoming Batchewana First Nations election in February, told SooToday.com "there's a woman who's on a hunger strike and this is ridiculous to watch someone die. The Prime Minister doesn't want to take a couple of hours to sit down and talk with our leaders, but he goes on Twitter and says he's saddened by the NHL labour dispute."
Corbiere said "people say 'the natives are crying about something again' but people need to take their blinders off."
"Bill C-45 not only affects First Nations directly with our environment and our resources, it affects everyone. It's not just affecting First Nations, it affects everyone, the lakes and rivers. We all drink the same water. We don't want the same contaminants affecting non-natives either."
Corbiere added "when you see us all standing together like this, we're standing up for everyone else's rights too."
"With Bill C-45 the government is saying in regards to our land claim settlements they're going to cut them down in half. They say 'we'll offer you money, but with that you've got to give up part of your territory,' but most of that territory is where our resources lie."
Garden River First Nation Chief Lyle Sayers told us "we're talking about our lands, we want them kept the same, not just left with little pieces of it and they (the federal government) are suggesting that's what they want to do."
Batchewana First Nation Chief Dean Sayers told SooToday.com " we had a somewhat newly forged relationship with the Prime Minister. We were fairly optimistic about our relationship with the government after we met with him January 24th in Ottawa, but it's been a real disappointment since then."
He stated "630 Chiefs are behind Chief Spence and we expect to see the fulfillment of the spirit and intent of our meeting with the Prime Minister, but he couldn't be any farther away from the intent of that meeting. We believed he was representing the values of Canadians. He is sitting back and allowing Chief Spence to possibly move over into the
spirit world because of his stubbornness, when all we need to have is a re-igniting of our relationship."
Garden River First Nation Chief Lyle Sayers said he has heard rumours that Harper may indeed meet with Spence, but nothing definite.
Clearly, someone has to blink in terms of Spence's hunger strike.
Meantime, Batchewana Chief Dean Sayers said "I think Canadian people are starting to feel embarrassed," stating people around the world are asking 'what's going on with Canada?' in its' relationship with aboriginal people.
"I don't think many Canadians are as content as Mr. Harper believes they are under his leadership right now," Sayers said.
Editor's note: Comments on the above article have been disabled due to persistent inappropriate postings.