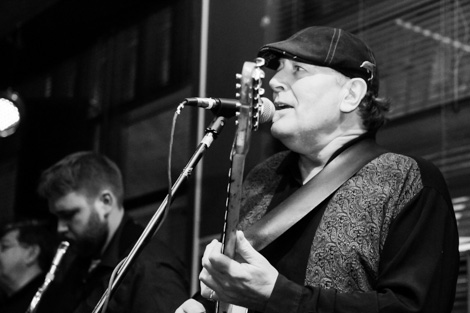 Fans gathered at the Water Tower Pub Wednesday evening as a local blues musician celebrated the release of his latest offering, Wexford Blues Sessions.

Rusty McCarthy, backed by Lindsay Pugh, Mark Gough, Rachelle Risling, Josh Norling, Britta Wolfert and Jay Dinsdale, played selections from his fifth recording, as well as a few favourites from his back catalogue.

McCarthy told us the roots of Wexford Blues Sessions began almost four years ago while in Ireland housesitting for a friend.

During his time there, he befriended a number of musicians, toured the art house and pub scene, and eventually recorded the bed tracks that would become his latest CD.

"I like the fact that the bed tracks were done live off the floor with no headphones, click tracks or anything like that. There's a nice, loose roughness to it that I think works," he explained.

Upon his return to Canadian soil, McCarthy gathered a few Sault players to complete the recording in his home studio, The Rec Room.

He told us he'll be heading back over to Wexford, Ireland to tour the CD this summer.

"They have a lot of blues over there. They pack rooms for blues shows, but it's a different experience. It's a different method. They like story-telling. But I don't have the gift of the 'blarney'," he joked.

Those interested in hearing McCarthy's half Irish, half Canadian recording will soon be able to pick up a copy from the Rad Zone in the Wellington Square Mall.

It's also available through iTunes.

Area blues fans are invited to the Wednesday night blues sessions hosted by McCarthy at the Water Tower Pub each week.