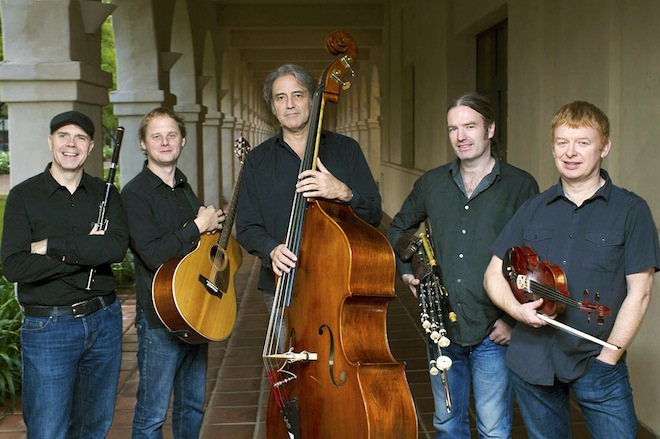 NEWS RELEASE

LAKE SUPERIOR
STATE UNIVERSITY

**************************
Hottest Irish band on the planet to thaw LSSU and Sault Ste. Marie

SAULT STE. MARIE, MI - A quintet that has been called "the hottest Irish acoustic group on the planet" will provide some warmth to the Eastern Upper Peninsula and Northern Ontario during a performance at Lake Superior State University's Arts Center.

Lunasa, one of the most sought-after bands on the international Celtic music scene, will perform at 7:30 p.m. on Thursday, February 20.

Tickets are $18 for the general public, $15 for seniors and $8 for students, and available from the Norris Center box office, 906-635-2602, or online at lssu.edu/artscenter.

Lunasa released its debut CD in 1997 and the band's inventive arrangements and bass-driven grooves steered Irish acoustic music into surprising new territory.

On its first American visit, word-of-mouth led to sold-out shows and rave reviews.

The band is internationally acknowledged for its talent and its constant touring.

It has performed more than 1,500 shows around the world in internationally renowned places such as The Hollywood Bowl, National Concert Hall, Dublin, and the Sydney Opera House, and has recorded with the RTE Concert Orchestra, Ireland's national concert orchestra.

In 2011, the band was invited to appear at the White House.

The band's eight CDs have been hailed as some of the best and most important world music albums anywhere, while the blend of innovation, virtuosity, and passion has brought them to the forefront of Celtic music.

Lunasa has numerous accolades, including:
Performers of the Decade, from Live Ireland's Music Awards, 2010, which also named member Kevin Crawford (flutes, whistles) as 2013 Male Musician of the Year.
Top 10 Traditional Albums of 2010, by Irish Echo (USA) for its CD, LaNua
Best Traditional Album in 2005, by Irish Music Magazine (Ireland) for its CD, The Kinnitty Sessions
Band member Sean Smith is an All-Ireland Fiddle and Whistle Champion. His album, The Blue Fiddle, was named one of the year's 10 best albums in 1993 by the Irish Echo.
More information about the band is available at its website, lunasa.ie.

Lunasa's performance at LSSU is being sponsored by the Duncan MacLaren Family Fund, the LSSU Cultural Affairs Fund, and Encore Financial Group.

**************************