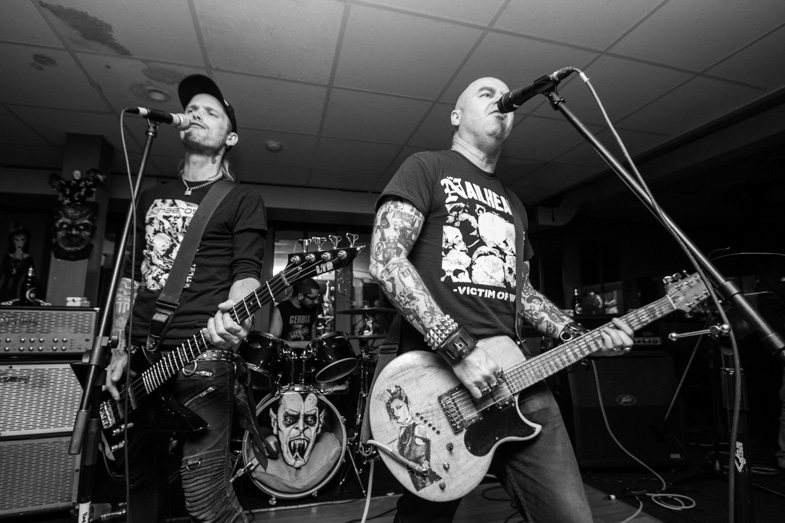 Near the end of October, three talented punk bands - two local and one adopted local - shared a night at the Algonquin Pub to celebrate a special CD release.

Sault bands Destroilet and Jack Spades, and Montreal's Ripcordz hit the stage to showcase the music of their freshly pressed 18-track three-way split, Fed Up!

"I'm a huge Jack Spades fan, I love being in a band, and I love the Ripcordz, so it's a huge honour and privilege to be a part of something like this," said Destroilet frontman Mike Hull.

Featuring six tracks from the three contributing bands, the album includes a few gems for Canadian - and local - music history buffs.

The Ripcordz offered to the mix their cover of Mitsou's Bye Bye Mon Cowboy, while Jack Spades included its own version of the Inner City Surfers' Ten Commandments.

"I first saw the Ripcordz when I was around 14 years old, and I've played with them a lot over the years," said Johnny Pints of Jack Spades. "They'll drive all the way from Montreal to play Sault Ste. Marie, that's how much they love it here. They support our scene as much as we support them. It's really exciting to be a part of a project with them, and hopefully stuff like this will continue for years to come."

"The best part for me is, for a band to be around as long as the Ripcordz have, there's absolutely zero ego involved," Hull explained. "They are to the core what it means to be punk rock. For them to so easily attach themselves to two local bands from some little city in Northern Ontario and be just as happy about it as we are, really says a lot to me and backs up the ethics they seem to have always portrayed."

The Ripcordz-Jack Spades-Destroilet split, Fed Up!, is currently available for purchase locally at The Rad Zone in the Wellington Square Mall or from iTunes.

Johnny Pints said a small tour in support of the release is in the near future and the trio hopes to have the album released on vinyl and cassette soon.