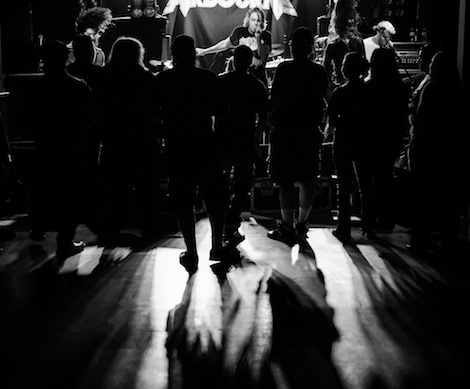 ~ SATURDAY, JULY 12, 2014 ~

This Ice performs at the Goulais River Community Centre from 9 p.m. to 1 a.m. for the Goulais River Community Days. The annual parade kicks off at 10 a.m. followed by family events, games, and food and refreshments.

Eco Art Adventure Tour from 10 a.m. to 5 p.m. at the Art Gallery of Algoma includes a guided tour of Aganetha and Richard Dyck's Surreal Transformations exhibition, a tour of local bee keeper Mary Eaton's farm, a picnic lunch and special honey dessert in the garden, tour of the hives and talk on beekeeping by members of the Algoma Bee Keepers Association, and a studio tour at the Turning Point Studio. Please call 705-949-9067 ext. 107 to reserve tickets or email galleryinfo@artgalleryofalgoma.com

The Swamp Cats perform at Dana's Bar and Grill, 532 Queen St. East, from 5 to 9 p.m.

The Soo Theatre in Sault Michigan (534 Ashmun Street) presents Little Shop of Horrors at 7:30 p.m.

Ears and Eyes present Faraway Neighbours and Lyndon's Frozen Lake at Cafe Natura, 75 Elgin St. Show time is 8 p.m. Tickets are $10 in advance or $15 at the door. This is an all-ages show.

Jim O'Leary performs at the Water Tower Pub, 360 Great Northern Rd., starting at 9 p.m.

Obsession plays the Esquire Club, 102 Second Line West, from 9:30 p.m. to 1:30 a.m.

Redline plays the OLG Casino, 30 Bay St. West, from 9:30 p.m. until 12:30 a.m.

Tym Morrison plays the Harp, 701 Pine St., from 10 p.m. until close.

The Ottomans from Sudbury play the Rockstar Bar, 864 Queen St. East. Show time is 10:30 p.m.

~ SUNDAY, JULY 13, 2014 ~

The G. Marconi Society (450 Albert St. West) will host its annual Italian Festival from 1 to 11 p.m. The day includes music and entertainment, children's activities, a ravioli dinner from 4 to 7 p.m., and a dance starting at 9 p.m. Please call 705-942-5556 for more information.

The Soo Theatre in Sault Michigan (534 Ashmun Street) presents Little Shop of Horrors at 2 p.m.

The Sault Steelers vs GTA All Stars at Rocky DiPietro Field at 7 p.m.

@ the movies: Dawn of the Planet of the Apes, Earth to Echo, Tammy and more! For a full list of films and times, visit www.cineplex.com

**************************

SOOTODAY.COM would like to remind everyone to have fun and keep it safe. Please don't drink and drive.

**************************
Want your arts or entertainment event listed? Post your events for free on SooToday by clicking here.