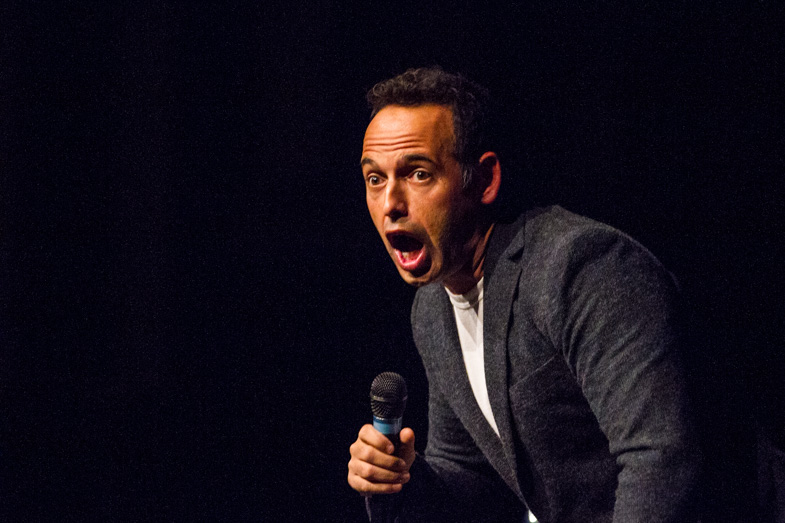 Comedian Shaun Majumder wasn't kidding when he told Saturday night's audience his performance is not the CBC.

The This Hour Has 22 Minutes co-host was in Sault Ste. Marie at the Kiwanis Community Theatre Centre to close out the 43rd annual Algoma Fall Festival.

But this wasn't Majumder's first time in the area.

He apparently performed in Blind River a few years back, an experience that fuelled a number of comedic moments throughout his performance.

He also went into great detail about why he hates Fort McMurray, why he loves Newfoundland (and its pot-smoking whales), told us what he really thinks of Jian Ghomeshi, referred to Justin Trudeau as The Prince of Pot, and simulated the Queen of England performing a sex act with George Washington.

Nope. Definitely not the CBC.

Comedian, writer and This Hour Has 22 Minutes correspondent Abdul Butt opened Saturday's performance, poking fun at a few late show-goers and letting everyone know where to find the best Quebec strip clubs.

The 2015 Algoma Fall Festival, presented by the Algoma Arts Festival Association, included performances from Jann Arden, Jane Bunnett and Maqueque, Mary Jane Lamond and Wendy MacIsaac, and many others.

Anyone interested in volunteering for next year's event can contact the festival by email at [email protected] or by phone at 705-949-0822.

Visit www.algomafallfestival.com to watch for information about upcoming events.