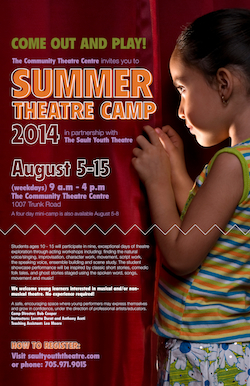 NEWS RELEASE

SAULT YOUTH THEATRE

***************************
Full and partial scholarship are still available for Summer Theatre Camp 2014!

Summer Theatre Camp 2014, hosted by the Community Theatre Centre offers a safe, encouraging space where young performers may express themselves and grow in confidence, under the direction of professional artists/educators.

The camp runs in conjunction with The Sault Youth Theatre.

We are pleased to be able to offer partial and full scholarships (up to the full fee of $350) based on interest and financial need.

The application process is very private and easy so we encourage those interested to get in get in touch!

During camp, students ages 10 - 15 will participate in nine, exceptional days of unique theatre exploration through acting workshops including: finding the natural voice/singing, improvisation, character work, movement, script work, the speaking voice, ensemble building and scene study.

The student showcase performance will be inspired by classic short stories, comedic folk tales, and ghost stories staged using the spoken word, songs, movement and music!

We welcome young learners interested in musical and/or non-musical forms.

No experience required!

Our Camp staff is a mix of educators and artists practicing in the community and include:
Camp Director: Bob Cooper - retired teacher, current adjunct professor with Algoma University and an experienced actor/stage director in the community
Instructors: Loretta Durat - arts educator and stage director whose most recent credits include co-direction of Les Miserables and direction of The Marvelous Wonderettes; Anthony Aceti - teacher with the ADSB and stage/musical director whose most recent credits include student productions of Oliver! and Fiddler on the Roof
Teaching Assistant: Leo Moore -- a Music student at Algoma University and stage performer who most recently appeared in Les Miserables. Look out for him in upcoming musical productions this season!
We are able to welcome Leo Moore as a member of our staff thanks to Service Canada's Canada Summer Jobs program.

Camp runs August 5-15 (weekdays) 9 a.m - 4 p.m at the The Community Theatre Centre, 1007 Trunk Road (A mini-camp is also running August 5-8).

To register or to inquire about scholarships, please email ctctheatrecamp@gmail.com or phone: 705.971.9015 or visit saultyouththeatre.com

***************************