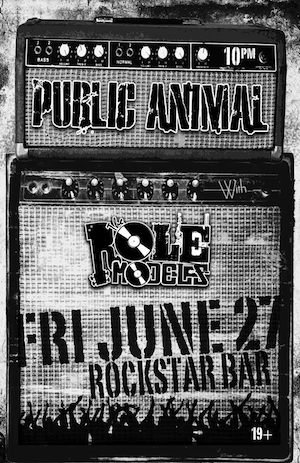 Sault Ste. Marie's own drummer extraordinaire was just about to abandon his craft because he felt his skills were weakening due to lack of practice.

But then Ian Blurton came along.

Ryan Gassi is known in certain Sault circles as a member of the Rhythm Rats and Kite Eating Maples, just two of his many past projects.

He's been a musician most of his life, which is not surprising considering the Gassi family teems with musical talent.

Young Gassi cut his teeth in local venues like the Jamestown Tavern and Chancie's during the late 80s playing with the Rhythm Rats before relocating with the band to Montreal.

"All this time I just wanted to be like Keith Moon and Mitch Mitchell," Gassi told SooToday.com. "Eventually I had to move on from that and came back to the Sault to play with the Kite Eating Maples for what was the last of the Windsor Park Hotel shows, before everything started up at the Princess."

A few short years later, he moved to Toronto and has since played in a number of bands there, some with Sault ex-pats, many without.

He spent time behind the kit for Scissors For Erica with Dwayne Slack, Scott Kaija and Mike Robillard, and Memory Bank with Frank Guidoccio, Craig Brown, and Michael Rockwood.

It was with Memory Bank that Gassi first met Ian Blurton, founder of Canadian bands Change of Heart, Blurtonia and C'Mon, former drummer for the Cowboy Junkies, and producer of countless records including those of Attack in Black, the Weakerthans, the Carnations, Amy Milan, Tricky Woo, Lowest of the Low, the Skydiggers, and many others.

"The Blurton thing all really started when he agreed to produce another band I play in, the Lying Cheats, which is something my sister Rachel and her husband Ken started when they were bored, living in Vancouver years ago," Gassi said.

"Once that record was done, Ian asked if I'd be interested in this project," he continued. "Coincidently, it was the night I was going to quite playing drums as I hadn't had a place to practice in years and my playing was suffering. I couldn't turn down the chance to play with an incredible guitar player like Ian Blurton though. It was a honour to be asked, so I jumped at it. Thankfully."

'This project' is Public Animal, named after and inspired by the work of Alice Cooper.

Gassi said Blurton already had other band members in mind when he was invited to join the ranks.

"It's a little cliché to say, but there was instant chemistry between the four of us, though we all came from different places," he told us. "I'd never experienced anything like it in any other band and before we knew it, we had well over and album's worth of material."

Playing with Blurton can be an intense experience and the music is much heavier than Gassi's previous projects.

"It's sort of a culmination of all of my influences," he explained. "I've had to go back to my roots in a way, trying to be like Keith Moon again."

Public Animal is set to play the Rockstar Bar Friday, June 27, coincidentally the same night Alice Cooper is scheduled to perform at Kewadin Casino in Sault Michigan.

Friday's Public Animal appearance includes special guest opener Brad Example and the Role Models, a performance Gassi is really looking forward to.

"Brad is such a great songwriter and Dave has been a great guitar player since I played with him when he was a frightening 15-year-old. I can't wait to watch them."

Show time is 10 p.m. and you must be 19 or older to attend.

"What can people expect from the show? A loud, high energy rock show," said Gassi. "People keep tweeting about it being 'face-melting' and the guy who mastered our record called us 'dirt n' roll'. If that sounds appealing to anyone - and why wouldn't it - then they should come out and buy us shots of Jäger."