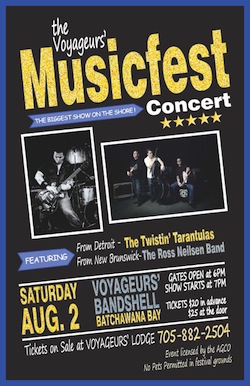 On Saturday, August 2, the Voyageurs' Lodge and Cookhouse is pleased to once again present Musicfest at the Voyageurs' Bandshell in Batchawana Bay.

This year's featured artists include The Twistin' Tarantulas from Detroit and the Ross Neilsen Band from Fredericton, New Brunswick.

After more than 20 years of touring their high-energy rockabilly punk show across North America, The Twistin' Tarantulas have no intention of slowing down.

"I attribute the longevity of the band to necessity. It's all I know how to do," Twistin' Tarantulas bassist-vocalist Pistol Pete Midtgard told The Detroit Free Press' Rachel May last December. "I created something from nothing. I came up with the name. I wrote a bunch of songs, and the next thing you know, I was earning a living off it. Once you've tasted that, it's certainly hard to go back and work for someone else."

The Ross Neilsen Band has been honoured with a number of accolades and nominations, including Best New Artist at The Maple Blues Awards in 2010, two Rising Star nominations from CBC, back to back Blues Album of the Year nominations from the East Coast Music Association, a win for Best Blues Recording for Redemption at the 2010 Music New Brunswick Awards, and finished a semi finalist in the solo/duo category at the 2012 International Blues Challenge in Memphis.

Most recently, Neilsen earned five nominations from Music New Brunswick, including Album of the year, Best Group and Best Rock Recording for Resurrection as well as Best Male Solo Recording for The Shack Up Sessions.

Neilsen took home the win for Best Blues Recording for The Shack Up Sessions.

Gates at the 2014 Voyageurs' Musicfest open at 6 p.m. with music kicking off at 7 p.m.

Tickets are $20 in advance or $25 at the door and may be purchased at the Voyageurs' Lodge and Cookhouse or by calling 705-882-2504.

This is a licensed all-ages event.

The following weekend on Saturday, August 9, The Voyageurs' Lodge will host the 4th annual Art at the Bay from 11 a.m. to 5 p.m.

The event will showcase the work of more than 40 regional artists and artisans.

For more information about these and other Voyageurs' Lodge events, please click here.