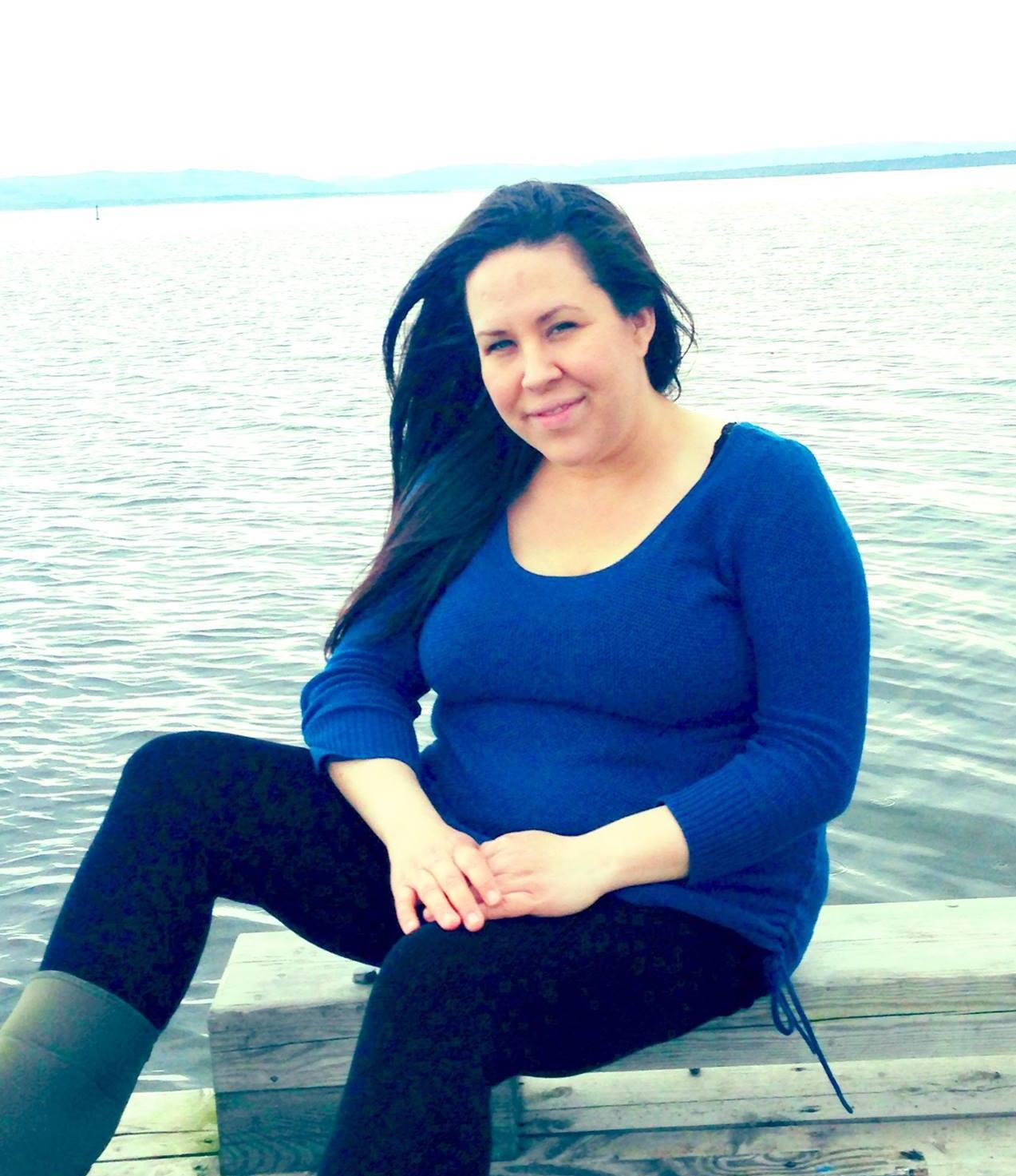 Local artist Roxanne Martin is a finalist in the 4th Wall Youth Solidarity Project, partnered with The Michaëlle Jean Foundation.

Martin's painting (pictured below) is one of six works that are being voted on to determine a winner.

The painting is entitled Round Dance on Parliament Hill and it was done using the mediums fabric, acrylic and Sharpie.

This is what Roxanne has to say about her work:

"I have many friends that are into the political side of the Idle No More movement and achieve great awareness across the country by speaking up against the government and the effects of Bill C-45 that are slowly stripping our Mother Earth.

"I, on the other hand, have no political background but through these images taking from that day, I feel in love with my people even more and decided I needed to paint what I felt was the rhythm and movement of my people, I am an artist and goddaughter/great niece to the late Cecil Youngfox.

"He was a well-known Anishinaabe Canadian painter and a homosexual man. He died from AIDS in 1987 but him and his partner Alberto Decastro made a huge, positive impact in the gay community of Toronto.

"He truly is my spiritual mentor guiding me in the right decisions of creative thinking and having the ability to tell a story by expressing my spiritual instincts and painting them on fabric without any hesitations."

To vote for Roxanne's painting click here.

Note: you also have to return to your email to confirm your vote!

A news release issued by The Michaëlle Jean Foundation can be found below.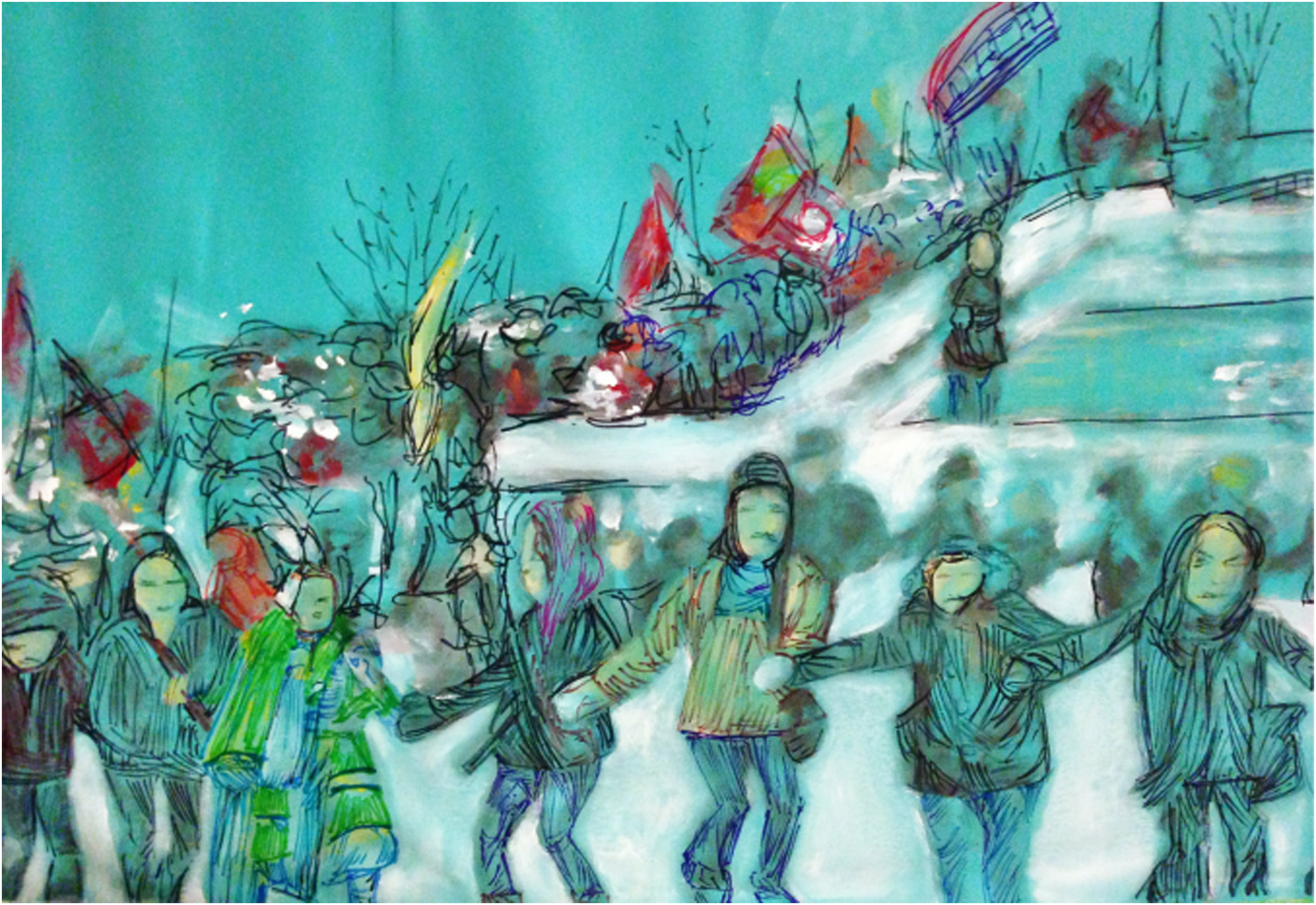 **************************
Sault Ste. Marie Anishnabe artist Roxanne Martin to be featured in groundbreaking exhibition at the Art Gallery of Ontario

TORONTO - The Michaëlle Jean Foundation and the Art Gallery of Ontario (AGO) are delighted to announce the six young artists who will be featured in a groundbreaking exhibition marking WorldPride 2014 Toronto.

On view at the AGO between June 22 and November 15, 2014, the Youth Solidarity Exhibition will inspire Canadians to work together to promote safe, inclusive and healthy communities for Two-Spirited and LGBTTIQQ youth throughout the country.

Each young artist will receive $1,000 CAD and travel to Toronto to view the exhibition during a Youth Solidarity Forum to be held at the AGO on June 22, 2014.

Canadians of all ages are now invited to vote online for artwork by one of the six finalists that best reflects the project's theme of "Solidarity with Canada's Two-Spirited and LGBTTIQQ* Communities."

The online vote here opened on May 16, 2014.

Roxanne Martin is an Anishinaabe/textile artist, children's book designer, jingle dress dancer and an educational facilitator.

A graduate from the Fine Arts, Anishinaabemowin programs, she inspires her community work with visual interpretations, storytelling and oral history of our surrounding lands and waters.

An entrepreneur, she runs a small business for Ojibwamoowin children's books.

As an Ashoka Change maker, Roxanne is currently fulfilling her commitment this fall to becoming a primary/junior teacher at Nipissing University.

As an Anishinaabe community practitioner, artist and seamstress, Roxanne's artwork and her practices blend personal biography with humour, cultural belonging and social critiques to engage her viewers in social conversations.

She is also the great-niece of Cecil Youngfox, a trailblazing Anishinaabe painter and gay rights activist.

The other finalists are:
Mathilde Cinq-Mars, a multidisciplinary visual and animation artist from Trois-Rivière, Quebec who has a BA from the University of Strasbourg;
Pablo Muñoz, a Colombian refugee who lives in Vancouver, B.C. and works as an interdisciplinary artist and human and migrant rights advocate;
Bogdan Salii, a passionate visual artist from Toronto, Ontario, who recently immigrated to Canada from Ukraine to pursue his dream of transforming his love for art into a lucrative business;
Leo Samilo, a nascent artist and recent high school graduate from Surrey, B.C's Filipino community; and
Brianne Walker, a 17-year-old human rights activist from Windsor, Ontario, and aspiring visual artist and filmmaker.
The winner of the online poll will be announced at the Youth Solidarity Forum, awarded a $1,000 CAD prize and have the winning artwork transformed into a public outdoor mural.

This project is actively supported by more than 55 human rights, faith-based, arts, newcomer, Aboriginal and health organizations across Canada.

For a full list of project collaborators, please visit here.

About the 4th Wall Program

In theatre, the "fourth wall" is an imaginary screen that creates a virtual separation between actor and spectator.

There are many ways to cross the fourth wall and to make the invisible visible.

The Michaëlle Jean Foundation chose to do so through the 4th Wall: Make the Invisible Visible program, in collaboration with several prestigious Canadian museums and art galleries.

The goal is to invite young creators to break down the invisible walls that create solitudes between individuals and communities across Canada, by opening the doors of our major cultural institutions to emerging creators from marginalized backgrounds.

The Foundation offers museum and art gallery space and bursaries to youth from disadvantaged backgrounds, often cut off from museums, so that they can produce original art that conveys their experiences, ideas and challenges.

On display for the public to see, their work provokes debate and builds solutions.

The first 4th Wall exhibition was launched on February 5, 2014, at the Montreal Museum of Fine Arts, to mark Black History Month in collaboration with FRO Foundation.

About the Michaëlle Jean Foundation

The Michaëlle Jean Foundation supports youth arts initiatives that transform young lives and revitalize underserved communities across Canada.

Through our programs, underprivileged youth are using their creativity to build new solutions to pressing social issues, like poverty, social exclusion and mental health. In so doing, they are catalyzing innovative community renewal projects, driving crucial Aboriginal cultural resurgence initiatives and kick-starting cutting-edge business ventures, all over the country.

For more info, click here.

About the Art Gallery of Ontario

With a collection of more than 80,000 works of art, the Art Gallery of Ontario is among the most distinguished art museums in North America.

From the vast body of Group of Seven and signature Canadian works to the African art gallery, from the cutting-edge contemporary art to Peter Paul Rubens' masterpiece The Massacre of The Innocents, the AGO offers an incredible art experience with each visit.

In 2002 Ken Thomson's generous gift of 2,000 remarkable works of Canadian and European art inspired Transformation AGO, an innovative architectural expansion by world-renowned architect Frank Gehry that in 2008 resulted in one of the most critically acclaimed architectural achievements in North America.

Highlights include Galleria Italia, a gleaming showcase of wood and glass running the length of an entire city block, and the often-photographed spiral staircase, beckoning visitors to explore.

Visit ago.net to find out more about upcoming special exhibitions, to learn about eating and shopping at the AGO, to register for programs and to buy tickets or memberships.

About WorldPride 2014 Toronto

WorldPride 2014 Toronto (WP14TO) is an international celebration taking place from June 20 – 29, 2014, that incorporates activism, education, and the history and culture of global LGBTTIQQ2SA communities.

WorldPride 2014 Toronto is presented by Pride Toronto, producer of Canada's largest annual festival of LGBTTIQQ2SA culture and human rights, under license from InterPride.

Pride Toronto is the not-for-profit organization that hosts the city's Pride Festival, an annual event in downtown Toronto during the last week of June and one of the premier arts and cultural festivals in Canada.

It is also one of the largest Pride celebrations in the world with an estimated attendance of over one million people.

It celebrates the history, courage, diversity and future of Toronto's LGBTTIQQ2SA communities.

See more here.

**************************