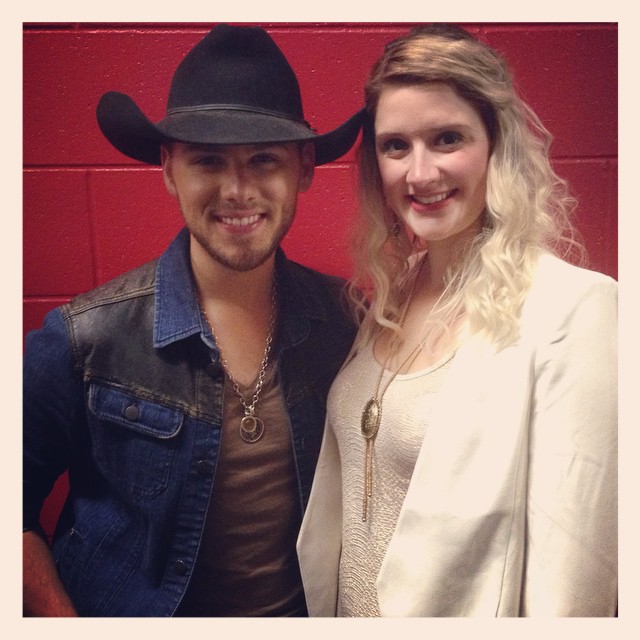 As fans anxiously awaited the start of one of the biggest country concerts to hit Sault Ste. Marie, Ontario, a half an hour after the scheduled start time a group of stage hands quietly walked onto the stage and began removing the drum set and other instruments belonging to opening act, Canadian country artist, Brett Kissel.
A buzz began to fill the arena, filtered with sighs and sad faces, and soon it was clear that Kissel would not be making his appearance.
Over the past three days, Sault Ste. Marie received significant snowfall and the snow squalls continued throughout the day Thursday as Kissel experienced one cancelled flight after another, and even after chartering a private jet into Sault Sainte Marie, Michigan the snow defeated the 24-year-old Albertan's attempt to defy the odds of a Northern Ontario snowstorm.
To add to the snow squalls and cancelled flights, Kissel was also subject to some razzing from one of the biggest names in country music, Brad Paisley.
Kissel is the scheduled opening act for the Canadian portion of Paisley's Country Nation World Tour.
"I've never opened for myself before," quipped Paisley a few songs into his headlining show that kicked off the second leg of the Canadian tour.
Throughout Paisley's set he used Kissel's absence as an opportunity to practice his stand up comedy.
Brett called and said 'it's really snowing and I don't want to get my boots wet'," Paisley told a packed house.
He continued sharing that Kissel told him even though he was Canadian, he couldn't make it and then amidst sobbing Paisley sniffled, "I just miss him so much."
It wasn't long after the teasing that Paisley tortured the crowd by asking how weird it would be if Brett was actually in the arena the entire time, and at that point, an hour and a half after his scheduled show time, Kissel joined Brad on a small stage at the back of the arena and the audience's reaction was deafening.
"November in Northern Ontario is not the most fun place to be, but when you have a crowd like this is just makes all the difference, it was so good," said Kissel in an interview after the show.
Kissel apologized profusely for not making it for his show and then began what would be a highlight in Kissel's career as he and Paisley performed a duet of Paisley's 2004 hit 'Mud on the Tires'.
Paisley then insisted that Kissel perform one of his own hits and the crowd went crazy for an acoustic version of '3-2-1'.
"It [today] was a borderline disaster to be honest, I was so upset. We almost didn't make it, I mean in reality we weren't able to play our show and we tried everything," Kissel said. "Brad obviously got word of this [the delay] and said, 'No problem buddy, why don't you come up during my show.' So it went from one of the worst days of my career to being one of the best days getting a chance to play with Brad Paisley."
Kissel again joined Paisley on the main stage for the night's encore performance of 'Alcohol' before heading to the upper bowl of the arena for a meet and greet opportunity with fans.
The Country Nation tour continues throughout Ontario and parts of Eastern Canada throughout November.
*************************
Previous SooToday coverage of this story:
Paisley delights cowboy-hat crowd (review, 15 photos)
(PHOTO: Brett Kissel is pictured with LOCAL2's Shaylan Spurway during their interview Thursday night)