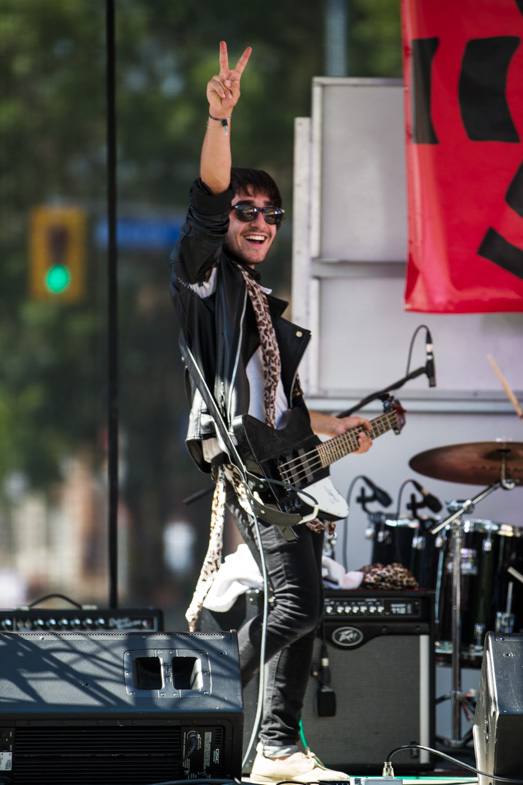 With a number of popular summer events either moved, cancelled or put on hold in the Sault area this year, including Hempfest, Rotaryfest Second Stage, Buskerfest and the Kiwanis International Walleye Tournament, downtown merchant Steve Alexander took it upon himself to fill the entertainment void with the first ever Emergency Music Festival.

The day-long street festival included four live music stages on Queen Street between East and Brock - Acute, Shock, Pulse, and the Emergency main stage - featuring 22 acts, 18 of which were local talent.

"You wouldn't be able to tell between the local or touring and regional bands. It's all been fantastic," Alexander told SooToday.com.

The afternoon was somewhat bittersweet for one popular local band, the Frasiers (pictured), as its opening main stage performance was its last show ever.

Members Charlie Derrer, Anthony Marcello, Brenden Fitzgerald, and Devin Williamson are parting ways for educational pursuits and other personal endeavours.

Presented in cooperation with Tenaris Algoma Tubes, Village Media/VM Radio and Rock 101, the Emergency Music Festival also included homegrown talent from Order of Good Cheer (featuring Frank Guidoccio), Kalle Mattson, Ryan Seabrook, Stephen Goodwin, Mark Kulmala and Dark Folk, Lorrie Bolduc, K.I.C.K., Mashagama, the Pixo Control, Gnaeus, Kylie Percepa, Nick Luck (AKA Aldous), Chris West, (AKA Great Chamberlain), Chloe Moore, Old Cabin (Jona Barr), and DJ Seith with guest beatboxer Killabeatz.

The showcase was rounded out with visiting artists Whitney Rose, Jane's Party, Lindi Ortega, and The Treasures.

Alexander intends to make the festival an annual event with expansion plans that include a greater variety of activities, performers and styles.

To see some performance footage from the Emergency Festival, please click here.

Look for the next episode of Tuned on Local2 to feature expanded performance coverage and interviews from the event.