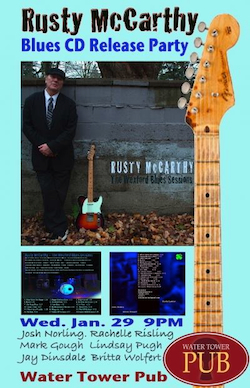 Who: Local blues musician, Rusty McCarthy, and guests Josh Norling, Rachelle Risling, Mark Gough, Jay Dinsdale, Lindsay Pugh, Al Davis, and Britta Wolfert

What: A celebration marking the release of Rusty McCarthy's latest CD

Where: The Water Tower Pub, 360 Great Northern Road

When: Wednesday, January 29, 2014

Important tid-bits

This performance is free to attend.

Music begins at 8:30 p.m. with an opening performance from Britta Wolfert.

CDs will be available for purchase at the event.

About Rusty McCarthy

With a career spanning three decades and sharing the stage with some of the finest performers in the world, he also enjoys time as a free-lance guitarist, playing with pop's Alanah Myles, Tom Cochrane, and the Barenaked Ladies; blues with Jeff Healey, Jerome Godboo, and The Blues Brothers; jazz with Bill Frisell, Holly Cole, and Molly Johnson; and folk with Colleen Peterson and Katherine Wheatley.

His musical projects have him travelling the world, often as band leader and guitarist with Mary Margaret O'Hara.

He's performed in London, New York and LA sharing the stage with music icons Sting, Lou Reed, Marianne Faithful, Steve Earle, and Elvis Costello.

Rusty's favourite performances have been ATP festival Somerset, Roskilde Festival Denmark, Edmonton Folk festival, Wexford Opera Festival, Pop Montreal, and a 2012 blues tour of Ireland.

As a songwriter Rusty has composed scores for Bravo TV's A Taste of Shakespeare, the feature film Apartment Hunting and the late David Carradine film Autumn.