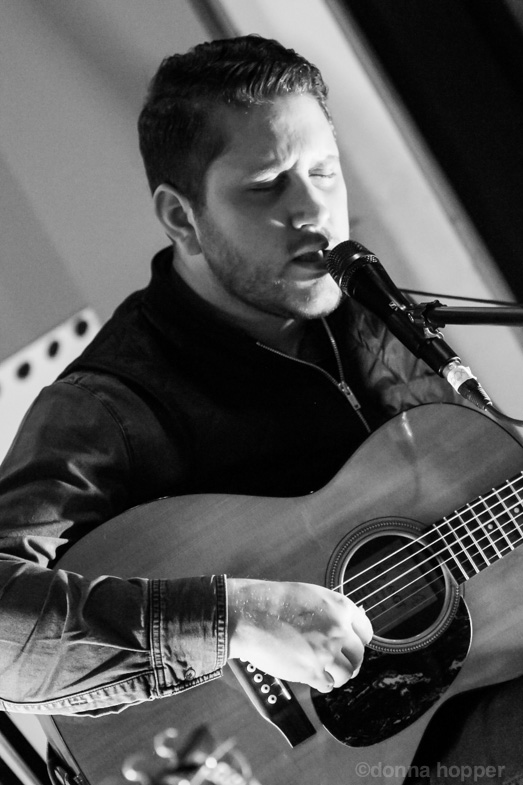 Making music comes naturally to Zachary Lucky.

Being the grandson of Canadian country musician Smiling Johnny Lucky, notable as one of the first to perform in the Arctic Circle and extensively tour northern reservations, his folk troubadour life comes as no surprise.

"It's quite an honour for me to come from that lineage and to have sat at the knee of such a great, hard-working musician," Lucky said in a 2011 interview with Saskatoon's Ominocity.

Sometimes that troubadour life can be risky, however, as he and travel mate Clayton Linthicum (of the Deep Dark Woods) discovered Tuesday as the duo drove through a winter storm from Thunder Bay to Sault Ste. Marie to perform at Cafe Natura.

"I've made touring and playing as many shows as possible my goal," Lucky told SooToday.com. "Shows like this are great. It allows you to get close to the audience. It gives you a better platform to share the stories behind the songs and rub shoulders with the people that are listening. That's always been important to me. That's why I go out on the road."

From the moment Lucky began his set of Americana-soaked ballads Tuesday evening, the Gordon Lightfoot influence was striking.

Oddly enough, Lucky told us he's not overly familiar with Lightfoot's vast catalogue and was never offered the comparison until his September 2013 release The Ballad of Losing You hit the shelves.

"He's a staple in the Canadian music scene, so that's huge. I'm flattered," he said.

So, what does Lucky listen to as he travels across this vast nation?

We took a gander at his recently played song list and found a number of enjoyable gems, including Petunia and the Vipers, Old Man Luedecke, Bry Webb, Buck Owens, Corb Lund, Daniel Romano, David Francey, Nick Drake, and Townes van Zandt (who Lucky says he listens to on a daily basis).

Lucky and Linthicum continue on their Ontario tour with stops in Sarnia, London, Hamilton, Toronto, and Ottawa before heading overseas for six dates in Finland.

Presented by Ears and Eyes, Tuesday night's all-ages performance included a charming opening set from the Fraisers.

To learn more about Zachary Lucky, please click here.

Up next on the Ears and Eyes calendar of events is Craig Cardiff with special guest Great Chamberlain on Friday, April 18 at Cafe Natura.

For more information about Ears and Eyes, please click here.