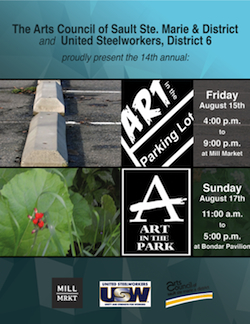 The Arts Council of Sault Ste. Marie and District in conjunction with the United Steelworkers District 6 is proud to present two annual local art showcases.

Art in the Parking Lot will take place on Friday, August 15 from 4 to 9 p.m. at the Mill Market (35 Canal Drive).

This event was initiated to provide young and emerging artists an opportunity to show off their talent. Featured mediums include painting, drawing, photography, fine craft, digital artwork, wearable artwork and more.

Admission is free, and there will be many activities for children and adults to see and engage in.

The event also includes local film screenings, food vendors and refreshments, yoga instruction from Jade, and live music provided by Case's Music.

On Sunday, August 17 from 11 a.m. to 5 p.m., the Roberta Bondar Pavilion will be alive with colour during the 14th annual Art in the Park festival.

The event will feature sculpture, painting, photography, fine crafts, literature and more.

Admission is free and those attending can partake in a wide variety of activities, including free life-drawing with a qualified instructor, children's crafts and games, a 50/50 draw, food vendors, and local talent presented by Case's Music.

For more information about these and other upcoming Arts Council events, please click here.