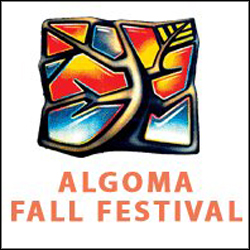 NEWS RELEASE

ALGOMA FALL FESTIVAL

**************************
Algoma Fall Festival features Group of Seven and Nuit Blanche

SAULT STE. MARIE - The Algoma Fall Festival highlights the visual arts this season with a special focus on the Group of Seven and the first ever Northern Ontario Nuit Blanche.

The Group of Seven in Algoma events include a month long exhibition of original paintings from local collections, a rousing panel discussion on their lives and times and our landscape and Nuit Blanche, a contemporary outdoor art event going deep into the night that will light-up the downtown.

"The Group of Seven exhibition will feature paintings from local private collectors, never before exhibited, which is very exciting," says festival president Donna Hilsinger. "And the first ever Nuit Blanche will bring visual artists and their extraordinary art projects to the walls, water, streets and landscape of downtown Sault Ste. Marie. I can't wait."

Performing artists also take centre stage during October with a diverse line-up of musicians, authors, fiddlers and step dancers, a humorist and chef.

The 2014 Fall Festival will run from October 2 to the 26, and feature Randy Bachman of both The Guess Who and Bachman-Turner Overdrive, performing his award winning radio program Vinyl Tap taking fans on a retrospective of his career with humorous stories and songs brought to life.

Award winning comedian Ron James will take the stage with his side splitting and kinetically charged performance.

As well, from Galicia Spain comes Celtic bagpipe and flute player Carlos Nunez, one of the biggest stars of the world music scene.

The Festival will highlight a range of literary talents with A Novel Dinner.

Bringing together four extraordinary and diverse authors, they will discuss their books, the creative process and their lives over a sumptuous meal.

Enjoy dinner with fashion journalist and bestselling author Jeanne Beker, bestselling author and comic novelist Terry Fallis, bestselling author and art historian Ross King and neuroscientist and pop-sci author, Dr. E. Paul Zehr.

Celtic Colours in Algoma throws an East Coast Kitchen Party with Chef Michael Smith, Food Network host and one of Canada's best known chefs.

This evening is sure to captivate and mesmerize as Michael tells stories of his professional journey and his own food awakening.
Celtic fiddle sensation Andrea Beaton joins the fun in a cooking moment of "teach the fiddler to cook and the chef to fiddle".

Michael will also give a talk sharing his passion for simple, sustainable home cooked Family Meals.

Rounding out our Celtic weekend, the Beaton Family of Mabou will take the stage with their lively step dancing, fast fiddling and traditional Celtic reels which are sure to ignite Entertainment on Fire.

Tickets go on sale August 11 at the Community Theatre Box Office in the Station Mall.

For details of the entire Festival line up, visit www.algomafallfestival.com.

**************************