Later this week I will be attending a funeral for a dear friend.
The father of a friend once told me he found that, as time goes on, he attended more and more funerals. I am finding the truth in that statement.
It doesn't get any easier, and especially when it is the funeral of someone close to your heart.
George Roberts was the father of Ruth, a girl I dated back in the 80s. While Ruth and I only dated for about a year-and-a-half, I am still in contact with her family.
(Ruth married and moved to Wawa, and later relocated to Espanola.)
George and his wife Elda attend the church in Echo Bay where I occasionally provide music and/or lead worship.
George fought a valiant battle with leukaemia. It looked good for a while, but sadly the disease returned and claimed his life.
George will be fondly remembered by all who knew him. He had an infectious smile that would light up a room.
A kind-hearted and very laid-back man, George was primarily a farmer. Like many who toil on the land, he also had a "day job" working for a local concrete company.
It was George who christened me with a nickname that stuck for quite some time.
You see, Ruth's full name is Ruth Anne. Shortly after we started dating I asked her about her name, as at that point I was unsure whether Ruth Anne was a combined first name, as is often the case, or her first and middle names.
Ruth had never heard of people having two first names, so I explained that I had known some people who had double-names as their first name: Mary-Margaret, Betty-Ann, etc. I also explained that some people just had four names, often when the family was trying to honour both grandparents, or as sometimes is the case with Catholics, bestowing a couple of "saintly" names on an infant.
For reasons I still cannot explain, other than to try and convince Ruth this actually does happen, I proceeded to tell her that I had four names: David John Obadiah Root. (I picked an obscure but very Biblical name, to make my point.)
Of course, she laughed uproariously at the thought that anyone would be saddled with such an old-fashioned name.
When we arrived at her house she delighted in telling George that my name was David John Obadiah Root.
I think George saw through my ruse right away, but with a twinkle in his eye he decided to play along.
"Well, Ruthie," he said. "That's a fine old Biblical name, but it's rather a mouthful to say. I think we should just call him, 'Obie' for short."
And so, for about a decade, I was known as Obie! (I spelled it with the exclamation mark… but that's a story for another time.)
I mentioned that George was a farmer. He had a hog farm in Sylvan valley. At the time I was dating Ruth, their barn held 200 hogs, from newly-born piglets up to 500-pound boars.
You know that your girlfriend's father has accepted you into the family when, after dinner, he invites you out to the barn to help castrate some pigs.
I am also honoured to have been the only non-family member to ever look after the farm, when the family travelled to New Liskeard to attend the graduation of their oldest son, Alf, from the agricultural college.
I last saw George about a month ago, at a church service and potluck dinner in Bar River. He seemed to be his usual, cheerful self. I did note that if someone asked him how he was doing his answers seemed somewhat evasive, but I didn't think that much of it at the time.
I know, now, that he must have been struggling once again. But despite his turning aside the question of his health, he still smiled as readily as ever.
George was a fine, honest, upstanding man. He and Elda raised a terrific family; Alf, Ruth, and Andy. They have a passel of grandkids, cousins, nieces and nephews, and innumerable friends.
He will be missed.
---
Update
If the measure of a man is the esteem of his friends, there is no doubt whatsoever about George Roberts. While the typical farmer joke is "he was outstanding in his field," George was most certainly an outstanding man.
I arrived at the Sylvan Valley Hall just after 2pm, and there was already a line out the door. It took about 15 minutes to get in and start paying my respects to the family.
I'm told that farmers from around the area just shut their tractors off and headed to the hall to pay their respects; the hay could wait.
I had a nice visit with some old friends and some of George's extended family. Meanwhile, people kept shuffling in the door.
I left at quarter-to-four, and there were still people waiting to get in.
The picture, below, was a sort of "honour guard", parked in the field across the highway from the hall. A very fitting tribute, in my opinion.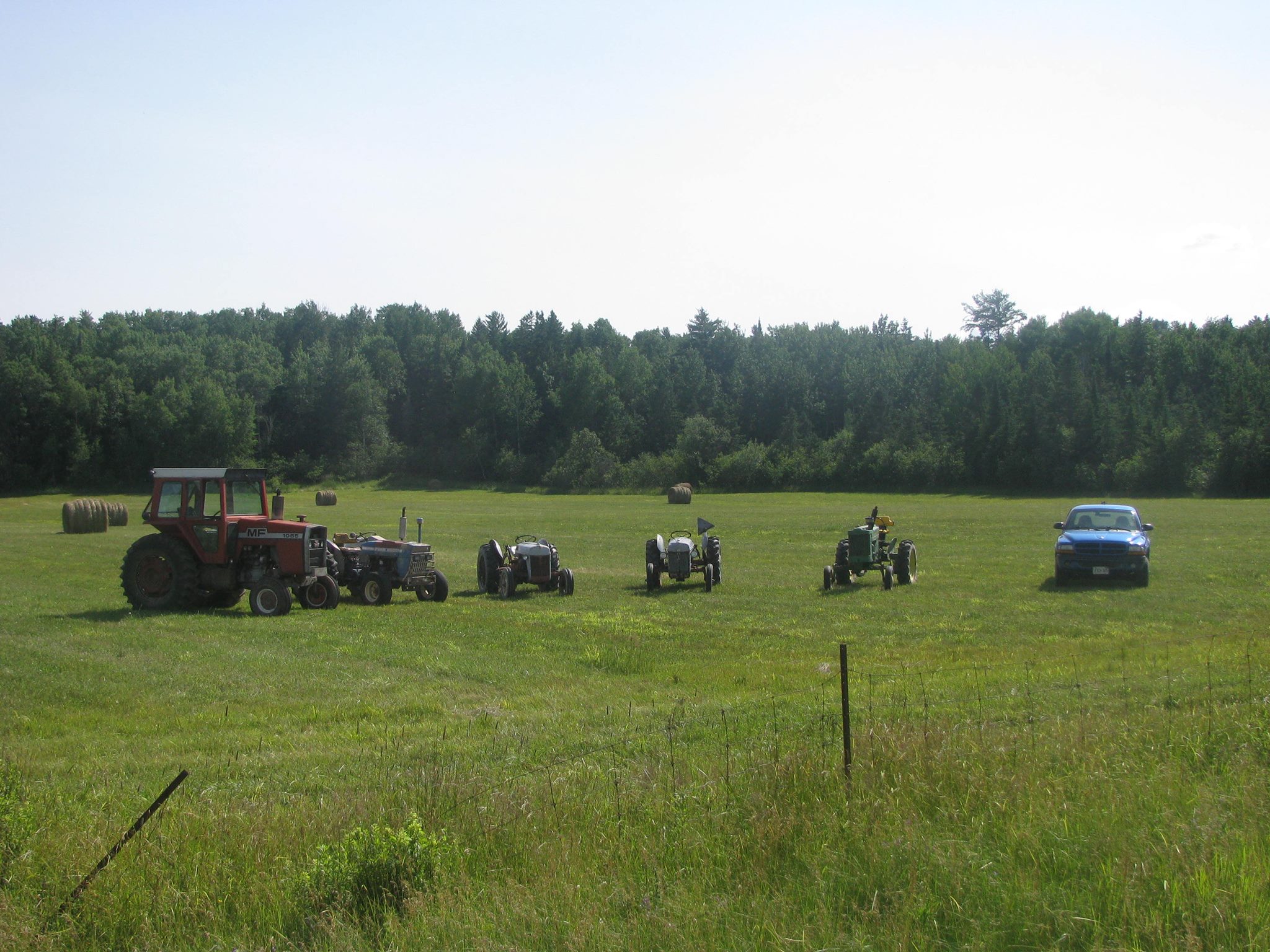 Photo by M. Monette