…is the place to be!
I remember watching the sitcom Green Acres when I was a wee lad. I didn't realize at the time how much it would affect me.
Oh, I know it was filmed on a sound stage, and not on a farm near Hooterville. And I know (now) it was a contrived situation, and the various problems that Oliver Douglas faced were absurd.
But even as a child of five or six I couldn't help but envy that lifestyle, as so aptly described in the show's theme song...
Green Acres is the place for me,
Farm livin' is the life for me! Land spreading' out now so far and wide. Take Manhattan, just give me that country-side.
I've mentioned this several times, but I love a drive in the countryside.
I spend a good many Sundays travelling to various rural churches to lead either worship or music. On those days, I am never in a hurry to get back to the Sault.
I will wander the backroads, exploring, and seeing the sights. The geography is breathtaking — you don't get the same sense of the majestic ruggedness driving along Hwy 17 as you do travelling on 638 or some of the back roads.
Towering peaks of Canadian Shield granite and occasional outcroppings of Niagara Escarpment sandstone and limestone, glacial remnants such as drumlins and eskers and braided streams, kettle lakes.
Farmland, much of it seemingly shoe-horned into various nooks and crannies of the exposed bedrock, being worked to grow grains and cash crops, or for grazing livestock is a common site.
The people are friendly — everyone waves, whether passing by in a vehicle, walking, or just standing near the road.
It's a peaceful place to be.
And when you get out of the vehicle, wherever you choose to stop, there is only the wind in the trees, or rustling through the crops to hear.
The air is fresh, and at this time of year fragrant with the crops being grown and harvested (it's haying time right now!).
The small communities along the highway are pleasant places, with friendly people to greet you, and a more relaxed atmosphere to take in.
Bruce Mines and Thessalon, being right on the shore of Lake Huron, have that near-the-water smell in the air that makes me inhale deeply when I step out of the vehicle.
I had two occasions this past week to head to the country.
The first, as I discussed in my last column, was a sad occasion: attending the memorial celebration for George Roberts. As I described, the community came together to pay their respects, with farmers leaving their fields to be there.
The next day I headed out to Gordon Lake Community Hall for a pie social.
Homemade pies to sample, admission by donation, with coffee or tea and plenty of nice, friendly people to sit and chat with for about an hour. Well worth the drive.
And, "dinner" season is coming -- turkey dinners, roast beef dinners, ham-and-bean dinners... if you havent been to a country church dinner, then you need to go. (I'll keep you posted!)
And the Agricultural Fairs are coming, too. They are a lot of fun!
I think that that is one of the aspects of rural life that really appeals to me: the sense of community.
Yeah, in the City you can get group of neighbours that wave to each others and occasionally exchange pleasantries, and perhaps even a group that has regular get-togethers (like a neighbourhood travelling dinner).
But it seems to be more of the exception, in the City.
In the country, people know their neighbours, and there is more of a sense of community, even though neighbours live further apart.
In the Sault there is still some active farming happening, but as the years go by there seems to be less and less of it. What had once been productive farmland is now a tract of houses.
Sure, it's not the urban sprawl that has consumed the rich farmland of southern Ontario, but nonetheless it is noticeable, in more ways than one.
Obviously, having house sprout up where grain once waved gently in the sunshine is noticeable. But keep in mind that these fields also contribute to our ecology; oxygen released from green plants, root systems preventing erosion.
Did you know that there are bison grazing within the city limits? Indeed, it is a small, domesticated herd being raised for meat, and not large, wild herds one would find on the prairies, but still, there they are.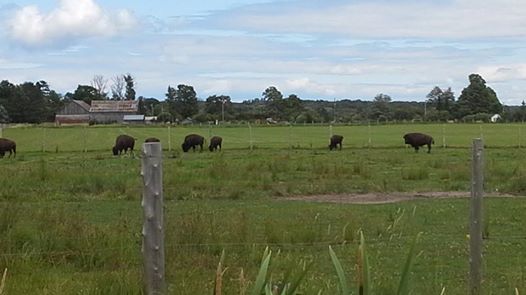 Photo by D Root
At this time of year it's not unusual to pass a wagon-load of hay being hauled in from a field out in the country. But if you drive on the right roads, you can see that within the city, too.
And our city farmers are just as friendly as their county cousins.
It's not that I don't like the City… I do. But there are aspects of city life that are losing their appeal: the noise; the smell; the traffic.
I know a few people who have packed-up and moved to the country. I envy them.
I'd do it myself, and I likely will just as soon as I can get myself settled into a job that would support a rural lifestyle.
Over the past decade our planet has reached a turning point. Until recently, more people lived in rural areas than urban. That has now changed, and more people now occupy urban areas.
In part, it is a result of a changing economy, one which imports foodstuffs — meat, grain, fruits and vegetables — from other countries, rather than growing/raising it locally.
It is also a result of the rise of the "factory farm," where size matters and mechanization has resulted in fewer jobs for both locals and migrant workers; they now must head to cities to find jobs.
No doubt there are many people who will happily live their entire lives in the city, some with no desire at all to spend any time in the country, other than to see it through the window as they travel across the province to other cities.
It makes me sad to see our rural areas diminishing.
Do yourself a favour... whether on the weekend or, of you can, during the week, head out for a drive in the country. Don't worry, you can't really get lost -- a bit turned around in some parts, but it's not too hard to find your way back to the highway. You can always ask directions.
You'll really enjoy yourself.
But… that's just my opinion.