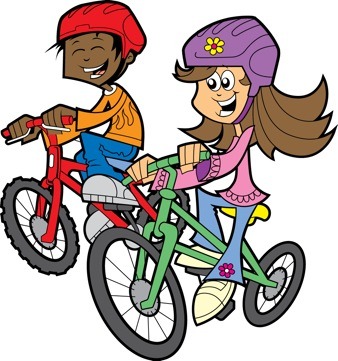 Spring weather has finally arrived in Sault Ste. Marie and that means Saultites are bound to participate in a range of outdoor activities, including cycling.
The Safe Communities Partnership would like to encourage everyone to enjoy the great bicycling routes offered in the region, and we would also like to empower cyclists to stay safe and prevent cycling injuries this spring.

From May 4-10, Parachute Canada is promoting Safe Kids Week with the theme focused on cycling and road safety for kids.
Helping to ensure that your kids understand safe cycling practices, such as wearing a helmet and having a properly adjusted bike, means that kids can be safe on the roads and trails within our community.
Cycling is a leading cause of hospitalization from unintentional injury in Canadian Kids under the age of 14.
Safe Communities Partnership wants to help erase this statistic in Sault Ste. Marie by raising awareness of safe cycling practices for kids.

Safe Communities Partnership encourages parents and caregivers to be role models for cycling safety by following these seven important tips:

1. Protect Your Head, Wear A Helmet

A properly fitted and correctly worn bike helmet can make a dramatic difference, cutting the risk of head injury by up to 80%.

2. Use the 2V1 Rule

A guideline for checking the fit of your helmet; make sure that the brim of your helmet is spaced 2 fingers above your eyebrows, the helmet straps form a "V" under your ears, and 1 finger can fit between the helmet strip and the rider's chin.
3. Check Your Ride

Ensure that your kids' bikes are adjusted correctly for their height and have them get in the habit of doing a bike check before getting on. The bicycle check should include making sure that the tires are inflated and the brakes are working properly.

4. Be Prepared

Getting trained in bicycle safety and rules of the road is important for the safety of riders. Be sure to use appropriate hand signals and obey all traffic signs.
Ask your kids to show you the signals for stop, right, and left hand turns before getting on their bikes. You should also remind your kids to always dismount and walk their bikes when crossing the street.

5. Pick Family Friendly Routes

Designated riding areas are in place for everyone's safety, riders and other pedestrians.
The Sault offers great cycling routes for both road commuters and those interested in mountain biking and trail riding. Velorution – a local bicycle sales and service organization – recommends cyclists try out the Hub Trail for a fun way to ride around the city with your family, and to take advantage of the bicycle lanes on Queen Street to introduce kids to road cycling.
For those interested in mountain biking and trail riding Velorution recommends kids wait until late May or early June to use the great trails at the Hiawatha Highlands to ensure the trails are clear and dry of mud from the winter.

6. Stay on the Right Side of the Road

During your rides, always be on the right side of the road going in the same direction as traffic. By doing this, you are making yourself more visible to drivers and they are able to see your traffic hand signals.
When riding, have your kids follow your lead by biking single file and repeating all the hand signals you make. As a motorist, ensure you give cyclists space on the road and be aware of the risk with door openings.

7. Be Seen and Heard

Another important part of riding is making sure drivers can see you when it is not very light outside. Wearing bright, reflective clothing and equipping your bike with flashing lights and reflectors help increase visibility.
Having a working bell on your bike is always a great idea; it allows you to gain the attention of other riders and pedestrians, letting them know you are close by or passing them.

The Safe Communities Partnership hopes that everyone takes advantage of the great weather by enjoying a day of cycling on the local routes.
Support Safe Kids Week by being aware of young cyclists that will be hitting the road so that everyone can enjoy the great cycling available in Sault Ste. Marie!

Nicolas Turco – Strategic and Human Resources Coordinator
Written on behalf of Sault Ste. Marie Safe Communities Partnership

http://sault.safecommunities.parachutecanada.org