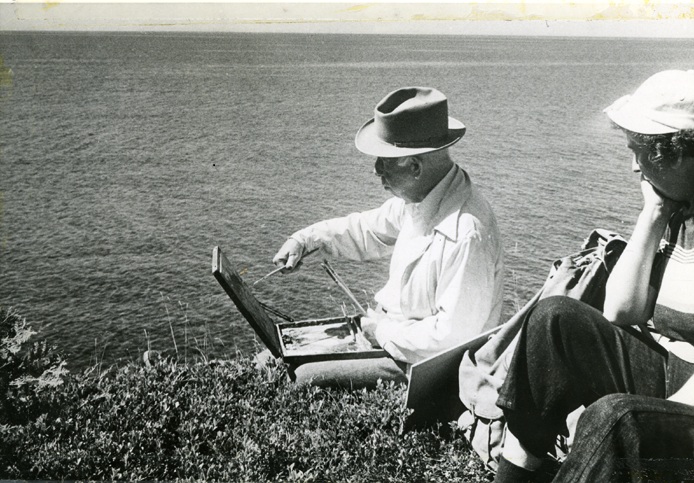 From the Sault Ste. Marie Public Library archives:
*************************
A.Y. Jackson and the Group of Seven
One of Canada's best known and most influential groups of artists was made up of seven artists who often travelled together and recorded the beauty of our country through their art.
The Group of Seven as they became known spent a lot of their time in the Algoma area.
One artist from the Group of Seven, A.Y. Jackson made repeated visits to our local area.
Alexander Young Jackson, who became better known as A.Y. Jackson, was born in Montreal on October 3, 1882.
He developed a love of painting early in life and he began studying art in Montreal but soon set his eyes on the excitement of Europe.
In 1907, he travelled to Paris and was soon influenced by the impressionist and post-impressionist movements that he found there.
A.Y. Jackson did not feel that his art was being well-received in Montreal so in 1913, when Lawren Harris, a fellow artist invited Jackson to Toronto he was thrilled to accept the invitation.
It is here that he met other artists who would later form the Group of Seven.
Prior to the start of World War I, A.Y. Jackson spent time painting in Algonquin Park and Georgian Bay area, often with fellow artists, including Tom Thomson.
Once the "Great War" started Jackson enlisted but was wounded in 1916.
Following his recovery he was transferred to the Canadian War Records branch as an artist and later as an official war artist.
He travelled through the battlefields of Europe recording the war through paintings.
In the fall of 1919, A.Y. Jackson joined J.E.H. MacDonald, Frank Johnston and Arthur Lismer in what is now one of the famous boxcar excursions which took place in our very own Algoma region.
The Algoma Central Railway supplied them with a boxcar referred to as ACR 10557 which was equipped with bunk beds, stove, table and chairs as well as a canoe and a handcar.
With these provisions they could stay in the wilds of Algoma and create works of art.
The train would stop every few days and move the boxcar to a new site along the tracks.
It is during this time that the Group of Seven formed and developed their distinctive style.
These and subsequent expeditions provided the material for the first Group of Seven exhibition held in Toronto in May 1920.
Jackson returned to the Algoma area many times until the 1960s when his health began to fail.
In the early 1950s, Jackson conducted a number of workshops here in Algoma for the Algoma Art Society and continued to travel throughout Canada, painting and encouraging young artists.
A.Y. Jackson suffered a stroke in 1968 and died in Kleinburg on April 5, 1974 but the legacy he left documents Algoma's awesome beauty in masterpieces that can be viewed in galleries both locally and internationally.
*************************
Each week, the Sault Ste. Marie Public Library and its Archives provides SooToday readers with a glimpse of the city's past.
Find out more of what the Public Library has to offer at www.ssmpl.ca and look for more Remember This? columns here.