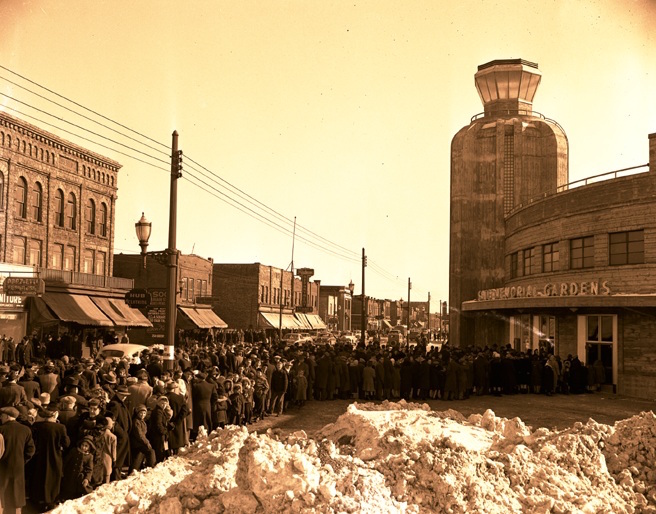 From the Sault Ste. Marie Public Library archive:
*************************
Let the Games Begin
At the end of World War II, Sault Ste. Marie was looking for a permanent way to recognize the contribution of the many young men and women who had left the city to go and fight in the First and Second World Wars.
Since the city was also in need of a sports arena, it was decided that this would be a good memorial to commemorate the lives that were lost fighting for peace.
After three years of planning and construction the Sault Memorial Gardens was completed and dedicated on February 20, 1949.
Designed by Stinson Sinclair in the Moderne style it was characterized by the soft rounded corners, smooth wall finishes and no surface ornamentation.
The Memorial Gardens was an extremely modern building for its time, using aluminum and stainless steel in its construction.
The construction was plagued by delays, political fighting and even a judicial inquiry about the skyrocketing cost of the building, which had originally been estimated at $400,000 but ended up costing $765,000.
This massive building was the first arena of its size to be built in Canada after World War II.
The Memorial Tower contained a lantern that was to remain lit at all times.
Due its visibility from the river it was feared that it could disrupt shipping traffic so it was later extinguished.
Nowadays, the light in the tower can be seen shining brightly whenever events are being held in the arena.
Many hockey players started their careers at the Memorial Gardens with some being drafted into the NHL, including Phil and Tony Esposito, Gene Ubriacho, Lou Nanne, Ted Nolan, Ron Francis and Wayne Gretzky.
Unfortunately the community outgrew the Memorial Gardens and the decision was made to demolish the old arena in 2006 to make way for the new Essar Centre.
However following public concern, the Memorial Tower was saved and designated for preservation under the Ontario Heritage Act and remains an important part of the current arena complex.
Incorporating the Memorial Tower with the new arena ensures that our war veterans continue to be honoured.
*************************
Each week, the Sault Ste. Marie Public Library and its Archives provides SooToday readers with a glimpse of the city's past.
Find out more of what the Public Library has to offer at www.ssmpl.ca and look for more Remember This? columns here.