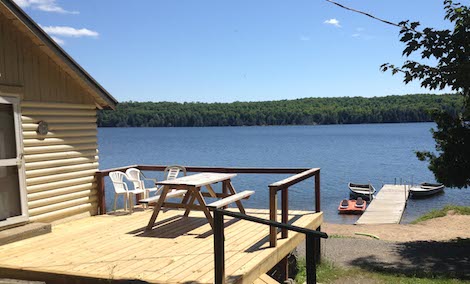 The lake is waiting for you.
The ice is out in our inland lakes and now is the time to book a spring fishing getaway.
There are many inland lakes to explore in Algoma Country where you'll find a variety of fish species from huge bass to pickerel, northern pike and panfish.
If fishing is not your forte, these same waters are excellent for a leisurely paddle to enjoy the wilderness by water, or find a secluded spot for a picnic and a swim.
Birch Lake Resort is situated just 10 minutes from Thessalon on the north shore of Birch Lake.
This is an ideal cottage vacation resort for fishing, a perfect retreat for individuals, families and small groups.
When you stay at Birch Lake Resort, you'll experience a quiet and relaxing getaway in a lakefront cottage.
For the angler, Birch Lake is home to big smallmouth bass, perch and northern pike.
Because this cottage resort is surrounded by a chain of lakes, walleye and even brook trout fishing are within a short driving distance.
For those looking for more of a wilderness retreat, the lake is a great place to paddle, swim and there are hiking trails in the surrounding area.
- Heather Bot