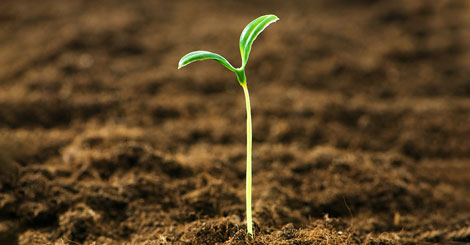 A water feature is an irresistible attraction in any garden.
There are styles and sizes of ponds to suit every gardener's taste.
A small container pond may be the perfect solution for the person just beginning their venture into water gardening.
This size of pond may also be just the thing to add interest and the sound of moving water to a patio or deck.
A small pond can start with any watertight container that is approximately 2 feet in diameter. (The container depth will determine the plants you choose for your pond.)
Use your imagination and search for an innovative container, eg. a 1/2 barrel with a pond liner, an old bath tub, metal containers sealed with non-toxic waterproof paint (to prevent harm to plants or fish), plastic planters, etc.
Containers can be set at ground level or buried part way into the ground for a more natural effect.
Carefully survey your yard to find the best spot of the pond.
The container should be positioned to receive at least 5 - 6 hours of sun to ensure continuous bloom if you plan on adding a water lily to your water garden.
Consider a location that will give you a good view of the water garden from the areas that you spend the most time in your yard.
If you plan to incorporate the sound of moving water into your water garden, consider a site that allows you to enjoy the sound from a restful location.
A level site is another important consideration.
Ponds look quite unsightly when uneven water levels allow you to see the liner at one side of the pond.
Once you are happy with the site you have chosen, fill your container and allow the water to sit for several days before introducing plants to the pond.
This allows the water temperature to adjust to the surrounding air temperature.
A clean water recipe:
One bunch of oxygenating plants for every 2 - 3 square feet of open water surface.
These plants absorb excess minerals and re-oxygenate the water.
One water lily to spread out over the water surface to help shade the water.
This will help to prevent algae growth.
Choose a water lily that grows to a size in scale with your pond, or one or two other floating plants to accomplish the same goal.
Water lettuce is a good choice for shady water gardens.
Water hyacinths love warm, sunny spots.
Four-leaf water clover, water poppy and floating heart are good choices for small containers.
One scavenger for every 2 - 3 sq. ft. of water surface.
Melantho snails will clean around the upper surface of the water.
Trapdoor snails are good scavengers for the bottom of the pond.
These snails feed on algae, fish waste and decaying plant material.
Add a few fish to eat insect larvae that may try to populate your pond.
Don't overcrowd your pond with fish.
Toxic waste may become a problem in small ponds.
Other plants can be added as desired to add to the beauty of the water garden.
Marginal plants can be used at the sides of the pond to add height and dimension.
These plants can be set at the proper water depth by using bricks to elevate the pots.
Remember that water depth for aquatic plants is measured from the water surface down to the soil surface in the pot.
To add the sound of moving water to the water garden any of the following can be used:
Pond statuary that is piped to spout water.
This flow of water will help re-oxygenate the water.
A 170 gph pump should be adequate for most ornaments.
This pump has no attachment for extra filtration and is recommended for small ponds that will have a minimum of debris.
The filter basket should be cleaned on a regular basis.
A water course can be added to a container pond using a preformed water run.
Chose a size of water run that will be in scale with the size of your pond.
You may want a larger capacity pump for a fast flow of water.
A 300 gph pump will give a good flow for a small waterfall.
This pump has the added advantage of a threaded inlet that allows you to add extra filtration.
A fountain head can be used in a small water garden if you are careful to choose one with a spray pattern that suits your pond.
It is recommended that you use the 300 gph pump or higher with fountain heads so that a canister filter can be attached.
The extra filtration will strain out small particles that would otherwise clog the small openings in the fountainhead.
The foaming fountainhead is a good choice for small container ponds.
Using the above information as a guide-line, setting up a container water garden should be straight forward task.
You will have a water garden that can be adapted to any space that you have available.