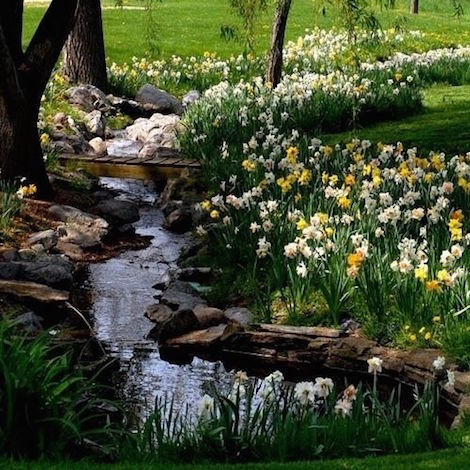 I wished for spring weather and it came!
I'm sure everyone got out over the weekend and did a little something in the yard: pulled the last of the fall leaves out of the garden; cut back any perennials and ornamental grasses that need a bit of attention; gave a good hard rake to the lawn to pull up thatch; pulled stray weeds from gardens; spread the first application of compost; or planted a few seeds.
This is the time of the year when I practically live at the garden centre so I was lucky enough to have my husband do a thorough clean up in our large back yard.
I had only managed to get the front gardens taken care of last fall before the snow came to stay!
After such a long winter, everyone is just starved for spring colour.
I mentioned last week that tough little pansies are hardy enough to take cool spring weather.
Other plants that can go in the ground or into pots now are spring blooming perennials and shrubs.
Primroses, Bleedingheart, moss phlox, trilliums, English daisies, rock cress and violas are all perennials that will give you a colourful spring garden.
Forsythia will be the first shrub to bloom this spring.
Its bright yellow flowers are always welcome after grey winter days.
Hardy varieties of rhododendrons and azaleas are also perfect for the spring garden.
Flowering almond, purpleleaf sandcherry and serviceberry are also early blooming shrubs.
You can combine pansies, spring blooming perennials and shrubs in your containers.
Add pussy willow or dogwood twigs for extra height.
Plant a tough trailer such as English ivy or vinca to soften the edge of the pot and you have colour for your entrance or patio!
When you are ready to plant your summer flowers, pop the perennials and shrubs into your garden.
It's a good time of year to take a notebook and walk through your yard:
Take note of clean up or pruning tasks that still need to be done. Maybe you have an area with poor drainage that needs to be taken care of before planting can begin.
Measure your lawn and record the square footage so you know how much fertilizer and compost pellets you need for each application. The bags always state area of coverage as a buying guide.
Make a wish list of plants you would like to add. You may organize it by bloom time, favorite colour, function or categories such as those that attract birds, bees for pollination, butterflies or hummingbirds.
Look at the list of garden projects you made over the winter and decide which one should be tackled first!
Be sure to go through your garden shed to see what you had left over from last season and make a list of what is needed before you head off to the store: fertilizer, potting soil, compost, seeds, new tools, garden gloves, etc...
Life is so busy these days that know I would be lost without my lists!
Getting your hands in the dirt is such a therapeutic activity!
I often hear comments from people about how the garden is their refuge from the stress of modern life.
There's something about the smell of freshly turned soil; the sight of new shoots emerging; the sound of birds, bees and frogs returning to the garden; the feel of earth crumbling in your hand; and the taste of fresh herbs and early spring vegetables.
Be sure to take that moment in the frantic rush of the spring season to stop and enjoy the wonder of the garden.
Take a chair to a quite spot, sit back, close your eyes and take in a deep breath of spring!