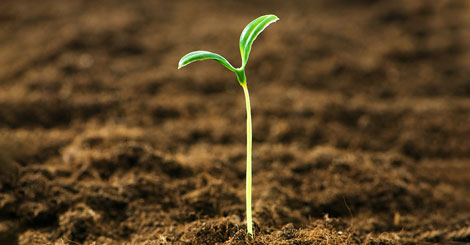 Last week's advice on watering turned out to be a bit redundant.
By the time the article was published, we had some good, soaking rain.
So this time I will focus a topic that is more seasonal rather than weather driven!
After all, we all crave colour.
Are you looking to add some plants to you landscape that will create fall and winter interest?
There are many to choose from.
The first one to come to mind is Dwarf Burningbush.
When these green shrubs turn fiery red after a good fall cold snap, they are the star of the fall garden.
Burningbush needs lots of sun and a position out in the open, away from sheltering buildings to put on a show.
They also need to be grown 'lean and mean' to produce the best fall colour.
We have found that those planted in part-shade or watered and fertilized too much may not be as vivid.
Environmental factors play a major role in colour change too.
If warm weather continues too long, plants aren't triggered to shut down for the season.
Plants need the signal to prepare for winter to produce the best fall colour.
Shorter daylight hours and fall frost starts the countdown to glorious autumn colours.
Other deciduous plants with great fall colour include: barberries, many maples, some spirea and sumac.
You can choose a tree or shrub that fits the spot in your yard that you are working with.
There are quite a few plants that have fall or winter appeal other than the colour their leaves turn.
Deciduous and evergreen holly has green berries right now that will turn bright orange/red later in fall.
These shrubs needs to be arranged with at least one male plant within a group of females so that flower pollination happens.
You can plant the male in the back of the group and keep the females front and centre so you see the berries.
Mountain Ash trees also have fall and winter interest.
Right now their berries are bright red or orange and very abundant.
Birds wil eat the berries a little later in the season.
As the berries ripen, they start to ferment. I have see birds staggering a bit after a good feast!
Yellowtwig and Redtwig Dogwood provide vivid stem colour in the fall and winter garden.
They are very adaptable plants that will grow in either fun sun or part shade, in either dry or moist soil.
They are good background plants in a shrub border or can be massed together for a privacy screen.
Dogwood are particularly attractive when combined with ornamental grasses.
The colourful stems of the dogwoods and the beautiful seed heads produced by the grasses are appealing in fall and through the winter.
If you like the look of the grass plumes in a garden, there are many perennial types to choose from.
You can pick one that grows in the shape and size to suit your garden.
If you need a grass with some height, look at the many varieties from the Miscanthus family.
I particularly like two: Silberfeider and Malepartus.
One of my favourite mid-sized grasses is Pennisetum 'Little Red Head'.
It has large, dense reddish purple plumes in late summer that last into fall.
This is also a great time to add some fall colour to containers, window boxes and gardens with pansies, mums, asters, purple fountain grass, ornamental peppers, cabbage or kale.
The seasonal colours will perk up the yard and last well into fall.

You can also tuck a few foliage perennials into arrangements to fill them out.
Ornamental grasses are perfect for this.
Just be sure to get perennials into the ground by mid-October so they settle in for the winter.