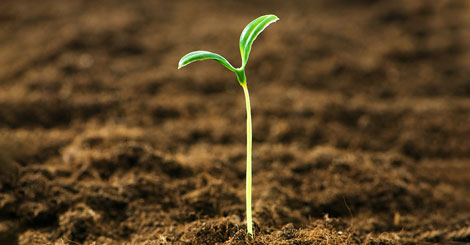 It is so nice to finally be out in the yard enjoying summer weather!
Temperatures are still a little cool at night but the advantage is that many early summer flowering shrubs and perennials will bloom for a longer period of time.
Unfortunately warmer weather also brings a new crop of insect problems to the garden.
Here is some information about some of the problems we are seeing right now:
Leafminer is active in lilacs, mockorange, columbine, birch and weeping elm trees.
Unfortunately there is little to be done once the pest is feeding as they tunnel between the top and bottom layer of the leaf, well protected from insecticides.
Leafminer won't kill a plant, it just makes the leaves unsightly.
Make note of plants that are affected and plan to use Leafminer Nematodes next spring to help control this pest.
Leafminer insects over-winter in the soil below the trees and shrubs.
Applying this beneficial nematode in spring before leafminer travels up to the leaves is the best course of action.
One year I didn't get the weeding done under my lilac shrub and I noticed that leafminer got into the weeds and I had a lot less damage on the lilac.
This year I had a big party at the end of June so did my weeding in good time. Now my lilac has been hit!
Just the other evening we were entertained some neighbours on our deck.
We got to talking about my six foot tall Conca D'Oro Lily and when I looked closely I realized that the leaves were being skeletonized.
I know I had finally had the Red Lily Beetle chomping big holes in the leaves for first time this spring.
Now I have the Lily beetle larvae eating the underside of the leave.
This pest covers itself in its own excrement to protect from predators. Yuck!
Check your lilies right away.
This pest will really proliferate if you don't get this stage under control.
Remove and bag all affected leaves and monitor frequently to get all hatchlings.
I've had a report that a solution of Dawn dish soap will kill them too: one part soap to twenty parts water.
Nocturnal feeders such as earwigs, slugs and snails are now very active in the gardens.
If plants are being chomped but you can't find the pest, try searching after dusk with a flashlight to identify the culprit.
Diatomaceous earth can be sprinkles around plants.
You can also use bait or traps as well. Copper mesh can help repel slugs and snails.
I'm not sure if Chinch Bug will be as big an issue as normal this season.
They tend to proliferate during hot, dry weather.
Keep an eye out for irregular dead areas spreading throughout the lawn.
You can test for chinch bug by sinking a can, with both ends removed, into the edge of the affected area.
Fill the can with water and watch for the beetle to float to the surface.
It is small with a distinctive white triangle pattern on its back.
Trounce will take care of this lawn pest as well as ants and mosquitoes.
We are seeing Flea Beetles chewing holes in the leaves of quite a few flowering shrubs and vegetables right now.
They are a small iridescent black beetle that jumps away when disturbed.
This makes them very hard to control.
Unfortunately there can be up to four generations per season.
Floating row cover in the vegetable garden as well as yellow sticky cards can help control adults.
You can use diatomaceous earth and beneficial nematodes to control the larval stage.
As a last resort, spray pyrethrins but avoid spraying when bees are foraging.
Always be on the lookout for aphids on your plants.
They have numerous generations per season but are easily controlled with insecticidal soap.
Chewing caterpillars will be abundant for most of the summer so keep a close eye on trees and shrubs.
They can be controlled with the biological insecticide BTk.
Spray on foliage so that the caterpillar will ingest it while they feed.