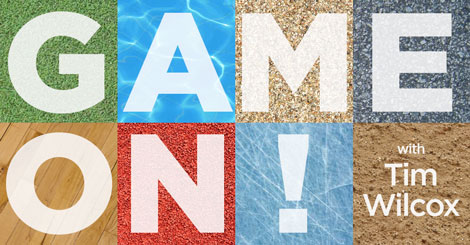 When I mention the sport of soccer to you, what springs to mind? Well that rather depends on how immersed you are in the sport.
In fact, no sport captures the attention of more fans worldwide than Everywhere-but-American Football.
How that attention is captured depends from what angle you approach it.
What do I mean?
Well, you've stayed with me this far, so I'll tell you.
Here are but a few examples of Soccer People.
The Soccer Coach:
Soccer is an incredibly inclusive sport, seeing as the price of entry in minimal (cleats, shin pads, ball) compared to minor hockey or baseball.
Also, a child of any age can play, seeing as it's essentially a pack of children chasing after one reasonably benign ball around a giant field, ignoring such inconsequential details as positioning, spacing, teammates, touch lines, direction of play, officiating, passing, or anything else resembling an actual game.
It's just 22 water bugs meandering after one black and white…CHRISTIAN, PULL YOUR SHORTS UP! CADENCE, STOP CLIMBING THE GOAL MESH! AUSTIN, THE GRASS IS NOT SNACKTIME! TAYLOR, YOU CAN'T PICK THE BALL UP AND… sure, bring it over here, that's fine…sigh.
This brings us to role of the coach in this bit of improv.
Here we find a seemingly rational person who has spent volunteer time and effort to diagram plays and teach skills for these kids, only to have the little angels ignore every single shred of his efforts.
They tear off without care, until they get bored, or hungry, or a bruise, or see a squirrel in the next field over.
If that isn't enough joy for Coach, we can always mention the not-so-subtle, quite audible critiques from other adults gathered nearby, bemoaning the fact that little Aedan REALLY should be starting, seeing as he's CLEARLY the best midfielder on the pitch, and so much better than that coasting showboat Creighan.
Not that I'm telling you how to coach, still…Of course I refer to…
The Soccer Parent:
Don't get me wrong.
Parents have enough to handle in their own right.
Packing up the Murano with a carload of Eeny-Meeny-Messis, their gear, and a cooler full of juice boxes and cheese strings is hardly a leisure activity.
And then there's the moment of pride where you point out to your fellow parents the amazing new Adidas cleats you bought online for Abigail, only to see her sitting on the far sideline, barefoot, using them to mix a lovely mud and grass stew for her teammates.
Oh, and do you see that one kid?
The one with the actual soccer skill set?
The one who gets back on defense, scythes through the other players, and scores all 12 goals in the game?
Not your kid.
Fret not though.
It's an activity you'll only have to endure for a few years, when Avery discovers Xbox First Person Shooters, and consequently develops a chronic aversion to natural light and conversation.
Treasure these moments.
The Fairweather Fan:
This is a relatively new phenomenon.
In the past, soccer allegiances usually came from Ye Olde Countrye, when our parents and grandparents came to Canada and regaled us with the heroic exploits of Juventus, or the magic feet of George Best.
Today however, we see a whole new and quickly expanding soccer fan base, with the emergence of 24/7 satellite and streaming soccer coverage, the influx of new Canadians from Europe and Asia, the explosion of the women's game in this country, and to a lesser extent the increased profile of Major League Soccer.
The latter owes no small "Thanks Mate!" to the arrival of tattooed boxer brief enthusiast and occasional ball bender, David Beckham, to the LA Galaxy.
You can spot these new fans by their encyclopedic knowledge of the current Chelsea roster, embarrassing attempts to use footy jargon, complete top-to-toe home and road kits for the upcoming season (scarves make a lovely accessory, by the way), and absolutely no idea what the lyrics are to any of the team's six fight songs.
The, Ahem, Passionate Fan:
This chap is one who actually attends the games, be they Premiership, La Liga, or FIFA international matches.
He cares not a whit that his country will be in crippling debt until the fiscal third quarter of 2116 in order to host the World Cup.
He can be identified by the Three Lions tattoo on his face, a tendency to express disdain for an opponent through the dispensing of saliva, a disregard for the inherent safety risks involved in such activities as scaling retaining walls, catching lit flares, and head-butting security personnel, and a place on a liver transplant list.
He knows all the words to "You'll Never Walk Alone", and would be happy to scream them directly in your ear without you asking.
Approach with caution.
So where does that leave you?
What if you wish to enjoy actually playing the Beautiful Game; a sport that combines athleticism, endurance, and minimal inconvenience from padding or helmets?
Well you could approach it organically.
Find a pitch, grab a soccer ball, assemble two five-a-sides, and you've got a match, lads! That does sound a bit like work, though.
However, if you prefer structure, schedules, rules, and a nifty uniform, try checking out your local Amateur Soccer Association.
They feature men's and women's leagues, across the age spectrum.
And if you think you've missed out on the summer season, well, you have.
Fear not, for there are indoor soccer leagues available in the fall as well.
The Sault has a proud, passionate football following.
Evidence of this will be prominent both inside and outside of our many social clubs during Euro 2016.
It's the global game, played by men and women, young and old, in every corner of the world. It's also amazing exercise, very social, and a whole lot of fun.
And after all, when it comes to recreational sports, isn't that the GOOOOOOOOLLLLLLLLLLLLLLLLL??????
You had to know that was coming…