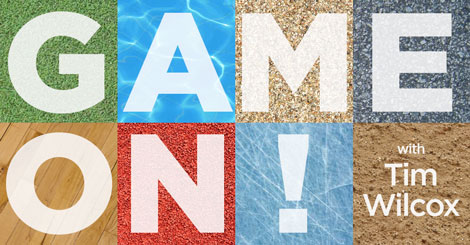 In 1996, the IOC expanded its roster of medal sports for the Summer Olympics in Atlanta, adding softball, mountain biking, and beach volleyball.
I can only assume their plan to increase leisure activity representation by an even half-dozen was foiled only due to the lack of preparation from the federations representing washer toss, slip-and-slide, and beer pong.
Now softball and biking, which have been covered brilliantly in here already, seemed like dodgy choices at best, but beach volleyball?
Come on.
When I lived briefly in London, Ontario during my earliest quantifiable failures at adulting, I frequented a tavern or six that featured outdoor patios.
Between sips of Labatt goodness I noticed an odd tendency for some of these decks to accumulate copious amounts of sand in adjacent lots.
I would have passed this off as a lack of dedication to the custodial arts by the publicans in question, had it not been for the placement of what appeared to be a trawling net attached to two tent poles in the centre of these plots of dirt.
Oddly, the nets seemed to snare wildlife.
Human wildlife, even.
Human males with bleached hair, bandanas, fluorescent micro-shorts, an apparent allergy to shirts, and all-around tans (I'm assuming).
Pretty sure they were all named Cody, too.
In time they attracted a specific type of female, both as participant and spectator, usually having arrived in a popsicle-hued VW Cabriolet.
Also blonde, also with impeccable tans, but with purple Western ball caps, cutoff jean shorts, and white T-shirts over their own nano-kinis, they possessed another common, defining characteristic; a complete immunity to the charms of a skinny, pasty Hawaiian-shirted hunk of Sault Man sitting alone chatting with his pint a few metres away.
I think they were all named Heather…or Tori. It might have been Chelsea, come to think of it.
But I digress. These beach creatures had migrated from the shores of Lake Huron and Erie, and brought their balls with them.
We GAVE them the beaches! Do they have to taunt us in our pubs too, damn it?
But I digress again.
They bumped, and jumped, and dove, and set, and spiked, and looked perfect doing it.
Like, Top Gun perfect.
It may have been two-on-two, in an abandoned gas station lot, on trucked-in beach, but it was a pretty impressive display of athleticism.
It was also one that your humble columnist, with his jump-a-sheet-of-paper vertical and hands of cookie dough failed to reproduce, and not by a little bit.
Needless to say, volleyball and I were never destined to be besties.
A jump cut to present day sees me with a tall, athletic, teenage daughter who has already surpassed her Dad's V-ball skill set, again not by a little bit.
She has been part of a school team that has travelled the province, having won or medaled in several tournaments.
That she has accomplished all of this without having to dress in, shall we say, Olympic-caliber kit is a bonus that this protective old fart parent cherishes.
Yes, Grace plays indoor volleyball thankfully, and does it brilliantly.
The great thing about this is that you can too.
Many local athletic centers feature gymnasiums equipped with volleyball nets.
There are both league and recreational schedules available depending on your level of commitment, and the game can be taught to nearly any age group.
Heck, your kids are probably playing volleyball in gym class already.
A pair of shorts, some knee pads (trust me), and good athletic shoes are your only necessities.
The rules are fairly simple and positional rotation means every player gets a go at every type of shot.
All bittern…kidding aside, volleyball is a hoot.
It's not too strenuous, a ton of exercise, and most importantly, good fun for all.
I love the game now, despite the fact that I play with the seamless grace and artistry of a South Park cartoon.
I guess time heals all Cody- and Tori-inflicted scars eventually.
Having an amazing daughter repping the sport helps too.
Or maybe I'm starting to get the hang of this whole adulting thing.
This marks column #10. I can't thank you enough for reading.