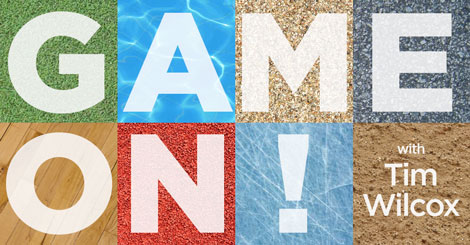 Last spring, Your Faithful Columnist attended an event in the quaint, bucolic, self-effacing community of Toronto.
It was a high-octane blend of lasers, smoke, thumping beats, and the kind of noise only an amped up crowd of 19000-plus can provide.
No, it wasn't a One Direction concert. I couldn't get tickets, dammit.
It was a Toronto Raptors game.
For you residents of Middle Earth, the Raptors are a professional basketball team.
They are Canada's only representative in the NBA, the Grizzlies of Vancouver having been unceremoniously bounce-passed to Memphis over a decade ago.
No such worry for Toronto's team, however.
The team has tapped brilliantly into the youth market, and has also attracted scores of new Canadians to their fan base.
They are a truly international team, featuring stars from Brazil, Spain, and Canada, and an energetic, visionary GM from Nigeria, Masai Ujiri, determined to bring international eyes to the team and the game.
More importantly, he is bringing the game to the eyes, hands, and hearts of youth around the world, especially in less developed countries like his homeland.
We The North is the passionate if grammatically dodgy battle cry of fans of The Six (a play on the team's 416 area code), and the combination of shrewd targeted marketing and some recent success have resulted in the Raptors being the envy of most rival NBA markets.
Oh, and Toronto hip-hop star Drake is the team's "global ambassador", which is…something.
I was no neophyte to the game, having picked up the game in my mid-teens, conveniently right after a telescopic growth spurt took me from 5'3" to 6'2" in about the time it takes to grow a good quality Chia Pet.
It wasn't pretty, blessed as I was with the coordination and grace of a newborn foal, the shooting touch of a Rock'em Sock'em Robot, and the vertical leap of a man whose shoelaces had been stapled to the ground.
I did, however, take direction well.
As such my friends coached and coaxed me and my narrow bandwidth of ability into a serviceable player; competent defensively, a passable rebounder, and one who could be counted upon to shoot at the proper basket 100 percent of the time.
A couple of them actually went in, too.
Not coincidentally, as I mentioned in a previous column, this was yet another sport that other members of my family were strong and successful players, and that had managed to leave me without so much as the suggestion of a basketball skill set.
My cousins were high school stars.
One received a full boat scholarship to an NCAA school in fact.
My father was also a high school player of some note.
I inherited their love for the game at least.
But I digress. What's to love about basketball?
Well again it's a sport that is fairly simple at its core.
Five players a side, on a hard court with baskets mounted on backboards at either end.
You need some decent shoes, athletic wear of any kind, and a basketball, and that is about it.
Anyone can play it.
A little practice at the basics of dribbling (bouncing the ball), passing (like it sounds), shooting (let it fly!) and you can jump in on a pickup game in no time.
You might even figure out how to dunk the ball.
The best way to learn this skill is to work on your leg strength and timing.
Failing that you could use a trampoline or the shoulders of an understanding teammate.
If you can't slam, don't fret.
It's not a deal breaker. You don't need to be tall like Yours Humbly.
I've been made to look like a sporting goods store mannequin countless times by people of a far lesser topography.
In the summer, there are games to be joined at outdoor courts in schoolyards across the city.
In the winter the YMCA and the George Leach Centre at Algoma University have fine indoor facilities.
You can work on your game year round, and also replicate that awesome squeaky-shoe sound that the pros make on their wooden floors.
It's yet another affordable, fun, and low-impact form of exercise that will let you let unleash your inner Lebron or Kobe without all the pressure and distraction of multi-million dollar shoe endorsement deals.
Seriously, who needs that headache?
Kids can pick the game up starting in public school, and may even find their way into the Soo's fine high school basketball system.
The varsity teams at Algoma U and Sault College await those who want to continue to take their game to another level.
It's another example of just how great, and underrated, the Soo is as a sports community.
We've got game in this town, and basketball is no exception.
So maybe I'll see you out on the court one day, ready to test out your latest crossover dribble on me.
Pickup ball with friends is pretty damn tough to beat.
Just don't ask me to dunk. My knees hurt just typing this.