SooToday.com, in partnership with the Sault Ste. Marie Humane Society, TAAG, and the Cavy Corner, brings you a regular feature highlighting a special pet that is in need of adoption.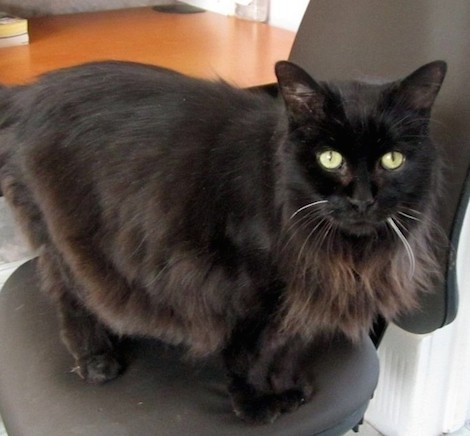 Senior Cat Jake
(The Animal Assistance Group - TAAG)
Senior cats like Jake make very affectionate companions with a lot of love to offer.
There are advantages to adopting a cat who has reached the age of 10.
You usually get no surprises, as their personality is what it is (what you see is what you get), so you can find the right fit for your family.
Older cats have left their busy kitten years behind them.
Many senior cats still engage in play, but most are very content to just curl up on a comfy lap or pillow, sitting in the sun, purring happily.
They make great napping buddies too!
Senior cats still have lots of love to give and they appreciate the attention given to them at this time of their lives.
Sadly, senior cats are often overlooked in shelters and typically wait a long time for their special family.
Jake is one of the senior cats at TAAG who is waiting for a home.
He is a neutered and declawed 10-year-old male long hair black kitty.
Jake is a very friendly boy who was originally brought to TAAG when his owner sadly passed away, disrupting his whole life.
He is very sweet and gets along with all the other cats at the shelter.
If you are interested in adopting one of the available pets, visit TAAG's website for shelter location and hours, adoption information and contacts, or join their Facebook group.
*************************
Unable to adopt? Share this feature on social media so each animal can get the exposure it needs and find a loving home.
To see past featured creatures who may still need adopting
click here
.