SooToday.com, in partnership with the Sault Ste. Marie Humane Society, TAAG, and the Cavy Corner, brings you a regular feature highlighting a special pet that is in need of adoption.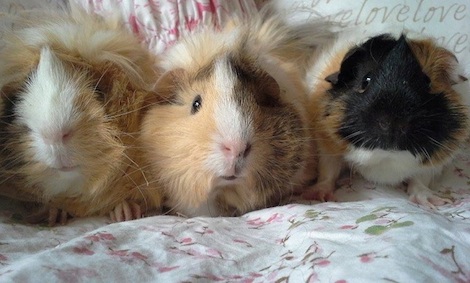 Charlotte, Sparx and Juno
(The Cavy Corner)
Charlotte, Sparx and Juno are three sisters that were born in August 2014. They are still babies, but are just about full grown.
Charlotte is very meek and quiet, but she loves attention, and is always close behind her sister Sparx, who is also her best friend.
Sparx is the firecracker of the group, she is loud, and is never shy about telling you when she wants something. She is the boss of the group, and keeps her sisters in check!
Juno is the snuggler of the group, she LOVES chin rubs and will cuddle with you for hours on end. She mostly keeps to herself, but is closely bonded to her sisters.
When properly cared for, guinea pigs can live approximately 8-10 years, so adopting these girls will be a long term commitment.
They require unlimited access to fresh hay and water, and they need fresh veggies high in Vitamin C every single day, and high quality pellets.
They are not, by any means, easy or inexpensive to care for.
They require regular visits to the veterinarian, and require several hours of socialization every day.
As guinea pigs are herd animals, they MUST be adopted together.
They will come with a cage, as well as come food and supplies. The adoption fee will be $35 for the trio.
*************************
Unable to adopt? Share this feature on social media so each animal can get the exposure it needs and find a loving home.
To see past featured creatures who may still need adopting
click here
.